¡Bong! Christmas is traditionally a time of reconciliation, love and humility. So it's in that spirit that I am reaching out to all of my readers, to say...
"FUCK YOU!
FUCK YOU ALL: VICTORY IS MINE.
THE BONG has WON!"
I am aware that I have many critics: and many of you in the dying, meatspace world may not wish to hear this. For example, those of you who value "profit making enterprises" that "invent stuff" over nextification workshops. Those of you seek to generate growth and value rather than jump on a taxpayer-funded catapult or a launchpad. Or those of you who would foolishly choose "code that works" (sic) over a "simple, direct, well mannered" web page design that uses "a revised version of a classic typeface" using the latest Agile techniques.
But just look around you, and tell me I am wrong. Everywhere you look: Bong is on the rise, and Bongonomics is now the guiding hand behind the UK's industrial policy. Everything has been been re-designated as a "digital business" - even the Bank of England, and Waitrose.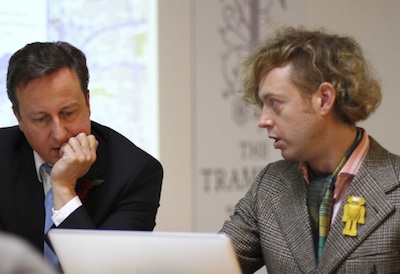 Prime Minister David Cameron gets a big data dump from the Trampery's Charles
For example, this time last year, there was just one Trampery, the amazingly chillaxed workspace for young entrepreneurs, with Persian rugs, natural light, and helpful gnomes. Now there are four Trampery: an 8,000 per cent Trampery increase [มาลัย - please check the stats, SB].
Another example. In March, the brilliant low-cost airline pioneer Martha Lane Fox was elevated to the House of Lords, as Baronness Fox of Soho. It's an inspiring example of social mobility that couldn't have been possible before the internet. Before the internet, it would have been simply unthinkable that somebody from such a humble background, who scrapped it out at Westminster School and Magadelen College Oxford, was a lowly CBE and board member of Channel 4 and Marks and Spencer, could have become a member of the House of Lords. Even though her great aunt Felicity Lane-Fox was also a peer.
It's another thing to think about. If the niece of a Baroness can also become a Baroness, then anything is possible for anybody.
Still not convinced? Look at the Government's Digital Service, GDS: a lean, mean Agile team of just a few thousand web designers and Javascript programmers in the newly expanded Cabinet Office. The GDS gurus haven't found it easy challenging old ways of doing things. Obstacles have been thrown in their way, with IT bed-blockers demanding things like "site functionality that people actually use" - functionality they simply removed.
Think about it like this. Would you build a house or a bridge from the foundations up, perhaps employing a structural engineer to make sure it didn't fall down? Of course you wouldn't. You'd employ a flamboyant interior designer to do the whole lot, and then when it fell down, asked you for more money. That's the revolution GDS is bringing to Whitehall.
But it hasn't been easy. The GDS may have been sacked by the Department of Work and Pensions and rejected by the Home Office before they could even start their Agile makeover. But they'll be back.
And the greatest sign of all that the new Establishment is really a Bong Establishment?
Last month, supermodel Lily Cole received £200,000 from the Cabinet Office for starting a website. The far-sighted charity Nesta, using its endowment of UK Lottery funds, also chipped in. Nesta was transferring money that had been extracted from the working class to a far worthier cause. (Don't fret: if those proles hadn't bought Lottery tickets they would only have spent it on snout, or betting on dog fights). Now, thanks to the miracle of Bongianism, some of that cash has been handed over to Lily to help nurture the "sharing economy".
Just look at Lily's website Impossible, below, and tell me that isn't money well spent.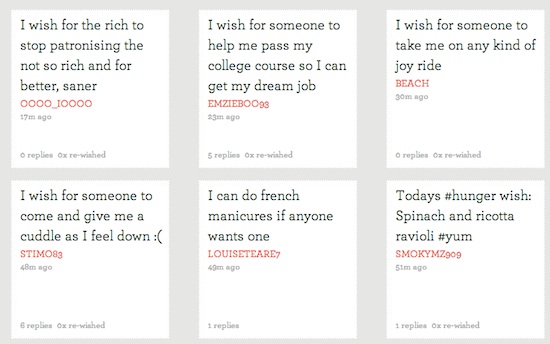 Now comes the traditional moment in the Christmas Message where the camera cuts away from the nation's Executive Leader, standing awkwardly beside a porcelain vase with a Corgi nibbling at her toes, to bring you filmed highlights of the year.
STEVE'S THOUGHT FOR CHRISTMAS
"If you want to know the taste of a pear, you must change the pear by eating it yourself"

- Mao Tse Tung
"On Practice" (July 1937), Selected Works, Vol. I, pp. 299-300.
A Year of Bong
January saw me stranded in the freezing Andes Mountains, where myself, my assistant มาลัย (which means 'Garland of Flowers' in Thai) and the highly sexed Google chairman Eric Schmidt had to crash land after an unfortunate malfunction with the pilot's Google Glasses. The cold may have temporarily subdued Eric's libido, but it meant we had to make some tough choices to survive - and we also missed Davos. (Not for the squeamish).
Earlier that month I had accompanied Eric to North Korea, that most unfairly maligned of countries. We received a warm welcome from its far-sighted and techno-savvy teenage ruler, who had a confided in us a terrible secret.
June saw the launch of The Guardian's #coffeeshop - an idea I developed with the Guardian's Chief Head of Technology Jemima Kiss. #coffeeshop is merely phase one of a strategic plan to pivot the giant Trust Fund away from "news" into the more modern social, data-driven world of infographics. Remember: "facts" are just data that hasn't been mashed up yet.
No sooner had Lady Fox taken her seat in the Lords than another, almost equally famous English Lady, Lady Margaret Thatcher, vacated her seat. For good.
I was honoured to be the social media engagement at the Funeral of Lady Thatcher, Shoreditch's Silicon Godmother. And as I look around at from my the roof of my loft and see thousands upon thousands of subsidised loss-making enterprises - I'm sure the Irony Lady would agree that the Thatcher Revolution is now complete.
In June came possibly the bleakest day of the year - as the Government's GDS announced it was abandoning the new icon set it had spent months developing. No wonder the talk back then was of a "double dip recession".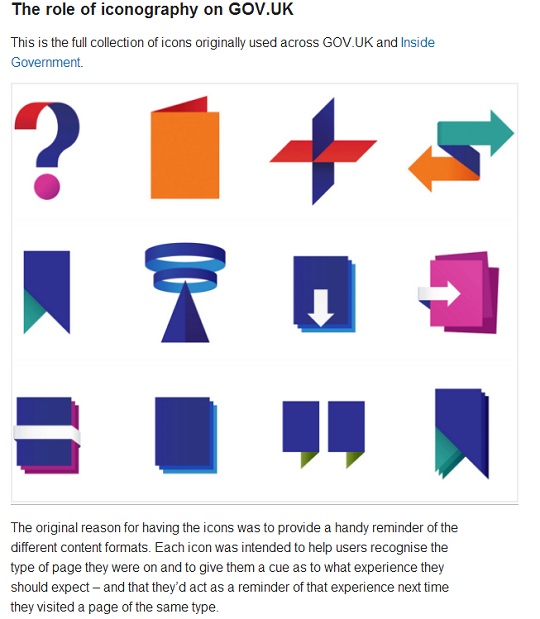 Fortunately I was available to give this incredible design work a new lease of life - these icons will be in the open-source version of the BBC's amazing Digital Media Initiative, which BongVentures has revived.
In April, Bong Ventures recruited the BALLS and BRAINS behind the Conservative internet economy revolution, thought-leader and former No.10 policy advisor Rohan Silva, as entrepreneur-in-residence. Here's a recap for you of how Rohan and I devised Bongonomics. Respeck, Rohan!
Also this year, in my role as Mr Fixit, I helped the open data fugitive Ed Snowden escape a close encounter with Ken Loach and Jemima Khan. A lucky escape for Ed, and we couldn't have done it without Smeg.
My summer was marred somewhat by being trapped inside a prototype of Elon Musk's Hyperloop - although I did make some new friends with his army of midget engineers.
July saw the release of the UK's new national curriculum - sadly with less Bong residue than I would have hoped. Hopefully the next version can abolish the arcane and frankly useless time spent on "Physics" or "English" and really get down to teaching the vitals of SEO and Infographics.

In the Autumn, I joined a secret Foreign and Commonwealth Office mission to arm the Syrian rebels with Jonny Ive's amazing iOS7 makeover, but they weren't really ready to hear our message. Look at the Syrian rebels today - Assad looks unassailable. If only they'd adopted our social media advice.
November saw the philosopher Russell Brand - a man almost as highly sexed as Eric Schmidt - capture the headlines with a bold exposition of the Bongonomics post-profit creed. Russonomics or Bongonomics? It's really the same thing.
And last month I revealed my surprising (to some) investment in artisanal offal. What's tripe got to do with Shoreditch's new wave of startups? It's actually not so surprising once you have spent an evening examining what Bong Ventures' startups actually do.
So on that note I wish all my readers a very happy NEXT-mas - and may you never have to pivot beyond the growth stage. ®
Steve Bong (official title: Lord Bong of #businessmodel) is the founder of Bong Ventures, an early stage investor and incubator focussing on innovative new technology start-ups based in Shoreditch, London. When he's not helping rear the next generation of business models, Steve enjoys parties, foreign travel, extreme cuisine, Open Data and draws his inspiration from Ayn Rand and His Holiness the 14th Dalai Lama. He advised (then hired) No.10 policy guru Rohan Silva on mindfulness and innovation, Mark Zuckerberg on the Perfect IPO, the Republic of Kazakhstan on emergent social media strategies, LOCOG on brand enforcement, and imagineered the Olympic Opening Ceremony with Danny Boyle, Shoreditch's #guardian coffee coffee shop with Jemima Kiss, and was the social media consultant for Edward Snowden and Lady Thatcher's Funeral. A recent attempt to arm the Syrian rebels with iOS7 sadly failed, however. At the personal invitation of Kim Jong Un, he is a strategic consultant on the Nextification of North Korea. Steve wants to pivot the BBC into the 22nd Century, blue-skying its hugely successful Digital Media Initiative, and advises the UK Government on icon design and the new National Curriculum. He favours Small Government but Large Catapults, and wants more taxpayers engaging in Ambient Crowdsourcing.
Join Steve's PERSONAL NUDGE UNIT @BongVentures on Twitter.