This article is more than 1 year old
Parents can hide abortion, contraception advice from kids, thanks to BT's SEX-ED web block
Gay, lesbian websites also thrown into telco's internet filter
Access to sex education websites can be switched off by UK parents who don't want their children to seek advice about their sexuality online, BT has admitted to The Register.
Its network-level filter, introduced last week, can limit home internet users' access to material the Coalition government would rather you not see, such as pornography, nudity, "tasteless" jokes, and self-harm advice sites.
Surprisingly, useful sex-ed websites – such as those explaining abortion, STDs and contraception – are on the list of categories that can be swept away by BT subscribers.
And, bizarrely, the telco said web pages about the "gay and lesbian lifestyle" fall under the domain of sex education, allowing homophobic parents in particular to block their offspring from seeking advice on understanding their sexuality.
The censorship system can even let parents withhold access to websites "where the main purpose is to provide information on subjects such as respect for a partner".
BT gave El Reg a statement explaining why it had included sex education on its Parental Controls system, which strongly urges new customers to put the supposed safeguards in place.
It said:
There has been an accidental mis-description of the way our parental controls operate. Some parents of very young children may wish to block sex education material.

One of our optional filters does just that. It does not discriminate between heterosexual and LGBT content. We apologise for any confusion that has been caused.

We shall review the way we describe the optional sex education filters available for parents of very young children. The filters in question are not turned on by default but must be activated only if chosen by parents.
BT defines sex education websites as online portals "where the main purpose is to provide information on subjects such as respect for a partner, abortion, gay and lesbian lifestyle, contraceptives, sexually transmitted diseases and pregnancy."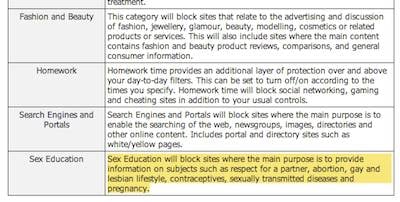 Screengrab showing some of the censorship categories that BT created for its filter
But when we specifically asked the telecoms giant to explain why it would be necessary to prevent access to such sites to stop youngsters from seeking vital advice about their health, we drew a blank response from BT.
BT also declined to answer our question about whether it would make public its list of sites it blocks on its network when the filters are switched on. ®