Mosquitoes, Comets and Vampires: The de Havilland Museum
When the British aerospace industry was more than just British Aerospace
The Second World War and the Mosquito
Having concentrated on building small, light aircraft, de Havilland was in danger of becoming simply a sub-contractor as the clouds of war began gathering over Europe in the mid-1930s. One market that did interest the company, though, was that for a twin-engined bomber, called for by the Air Ministry in specification P.13/36. de Havilland started by reworking the Albatross using Rolls-Royce Merlin engines but it fell short of requirements, prompting a radical rethink.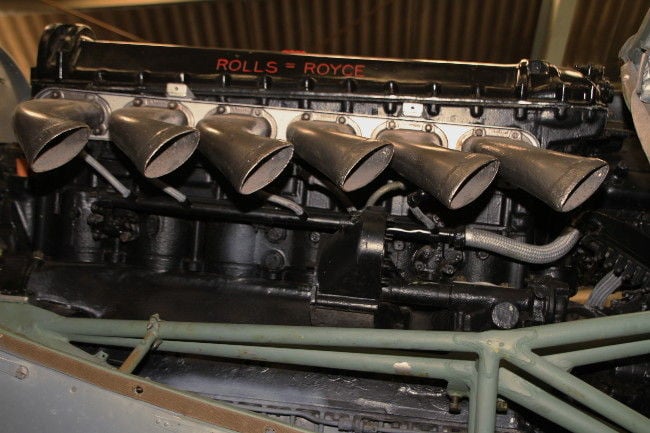 A Rolls Royce Merlin aero-engine, as installed on one of the museum's Mosquitoes
While the need was set down for an armed bomber capable of defending itself, de Havilland preferred the idea of an unarmed bomber using just its speed to avoid the enemy. It would be fast, streamlined and – in what would later prove a useful step – would be made of wood.
The idea was taken to the Air Ministry who showed no interest. What to do? Like a true entrepreneur with a vision, Geoffrey de Havilland started work anyway, in October 1939. The design team, initially comprising eight people, were moved away from the main manufacturing plant in Hatfield to the secrecy of Salisbury Hall a short distance away - which is, of course, the site of the current museum.
de Havilland's designers worked in the main hall of the moated manor house while the prototype airframe was assembled in a small hangar alongside, disguised as a farm building. The design was radical. Built almost entirely of wood, it was structured as a single wing, to which the engines and fuselage were simply attached with just four bolts. The structure followed that of the Albatross, with a wooden structure glued and screwed together (using 30,000 screws per aircraft), covered in plywood and then fabric.
No rivets meant a very smooth skin and with no gun turrets – a standard feature of bombers back then – a streamlined shape. Two Merlin engines supplied the power and the whole prototype was designed and put together in just eleven months. When ready to fly the pieces of plane (now given the company designation DH.98) were put on lorries, shipped to Hatfield, assembled again and the maiden flight was made.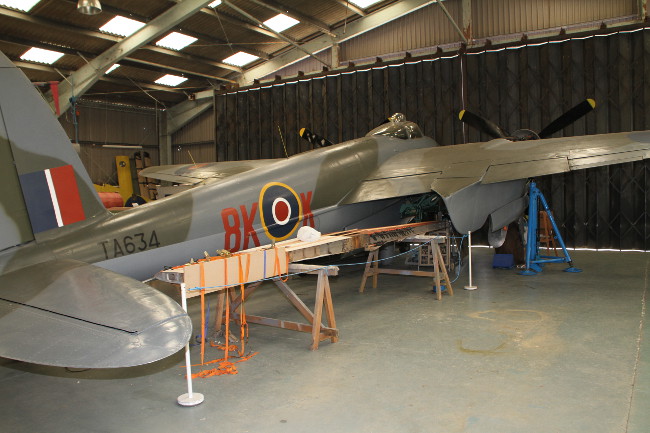 de Havilland Mosquito B Mk.35 TA634 at the de Havilland Museum
While having been started under its own steam the project now had some official backing, initially from Air Marshal (later Air Chief Marshal) Sir Wilfred Freeman, Air Member for Development and Production at the Air Ministry. Being made of wood it fulfilled a new requirement, B.1/40, for a fast long-range bomber-reconnaissance aeroplane made from "non-essential" materials: i.e. it wasn't metal, which was in short supply.
The new aircraft, named the Mosquito, easily surpassed expectations. During acceptance trials it reached 392mph and even outpaced a Spitfire in a head-to-head contest, leading to an initial order for fifty examples.
The sheer flexibility of the Mosquito airframe was its greatest strength. Built in two basic forms of fighter or bomber it performed a variety of tasks: night fighter; pathfinder; photo- reconnaissance; strategic bomber, sea patrol and fighter-bomber. Armament varied widely too: four .303" Browning machine guns and four 20mm Hispano cannon were the normal complement for a fighter variant, with hardpoints available for bombs, anti-ship torpedos and rockets in later years. Even a bomb bay-mounted 57mm anti-tank gun was installed on the FB.Mk XVIII.
The "Mossie" saw use throughout the war, with one of its most famous roles being in the Pathfinder squadrons. Here the Mosquito units led streams of four-engined heavy bombers to their targets by using the Oboe navigation system, which greatly increased the effectiveness of night bombing campaigns. Of higher profile was the strategic bombing of the Gestapo's Oslo headquarters and the Amiens prison raid; the approaches for these raids being made at just 60 feet above ground level for maximum surprise.
Arguably the finest aircraft of the war, the Mosquito's era ended as jet engines broke new performance records, but the company continued to forge ahead.