This article is more than 1 year old
TomTom GO 6000 satnav chews on smarties and tablets
Kick out the jams this Christmas
Review During the launch of the revamped TomTom Go series of satnavs earlier this year, the company reeled off some interesting statistics that revealed a considerable chunk of motorists don't bother with satnavs - 39 per cent, in fact. And of those 39 per cent, only 4 per cent were considering buying into the technology in the next 12 months. The question for TomTom, was how could it get all of that 39 per cent to change its mind?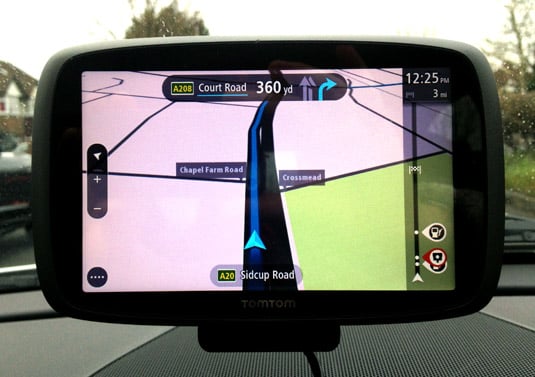 TomTom's GO 6000 flagship satnav but is it enough to stem the tide of map apps on mobiles and tablets?
The TomTom Commuter Concept pet project is one possible contender and there's more on this idea, the stats and the research here. Still, there's an awful lot of road between the satnav of tomorrow and what's being served up in the here and now.
Smartphones have obviously made their mark and it's not just the fact that mapping apps are available for free that has dented satnav sales. Mapping on phones and tablets has influenced customer expectations with many wondering: why doesn't the satnav with its touchscreen interface behave like a tablet?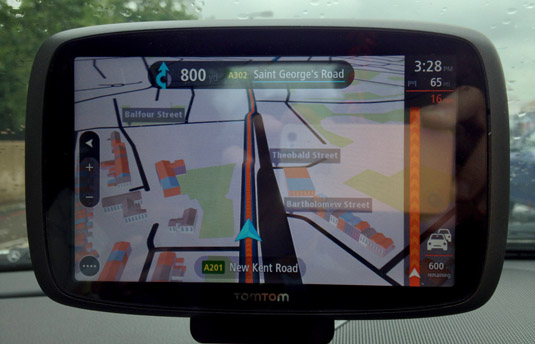 Congestion time estimates and length of jam shown, note the 3D buildings that appear in some areas
With the Go series, TomTom has endeavoured to meet some of those expectations and make inroads on price. The top of the range Go 5000 and Go 6000 respectively feature 5-inch and 6-inch capacitive touchscreen displays that support pinch-to-zoom. It might not sound like much, but it does make using one a lot less of a jolt. These two satnavs, or portable navigation devices (PND) in TomTom-speak are the only two in the range that have built-in GSM/GPRS communications needed to update the satnav with the latest TomTom Traffic data.
TomTom's realtime traffic congestion information is the jewel in the company's crown and is repurposed by a number of different service providers, including Apple. Having decided to make this data available free to new Go series users, the next problem was to make it accessible, namely affordable.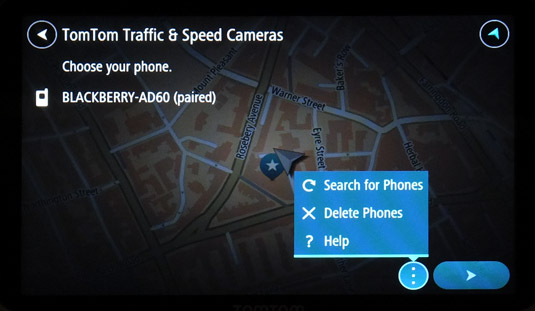 TomTom GO 600 paired with a BlackBerry Z10 – other handsets can be added to the list
Hence the Go 400, 500 and 600 models don't have the always-on, built-in GSM/GPRS, but that doesn't mean they're just stuck with GPS tracking over preloaded maps. These models feature Bluetooth and they can hook up to your smartphone tap into its comms functions to get the live traffic data.
To see how well this fared, I tried out both Go 600 and the Go 6000 – they look identical and in use, their performance was hard to tell apart too. That said, the Go 600 did appear to have a somewhat limited list of phones to choose from – iOS 6 or higher and Android 4.0 or higher, the surprise among them being a BlackBerry Z10 which I used for testing.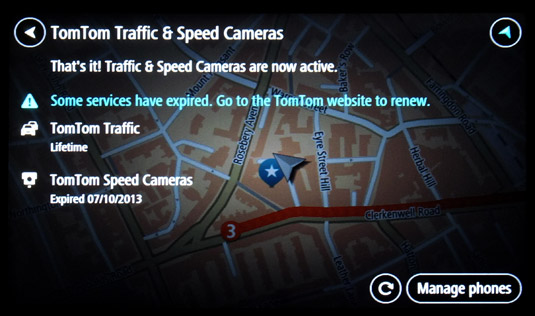 Tethered and now the bad news: some services are for life, but not all ... as this review unit eventually announced
TomTom goes to great pains on its website to describe the difference between the "Always connected" and "Smartphone connected" Lifetime Traffic service, but the Bluetooth tethering setup is simple enough – just create a personal hotspot on the phone and away you go.
The flaw I saw in all this was that you could easily have both mobile and satnav competing for the fag lighter power socket. Indeed, TomTom should really provide a dual USB socket adapter to prevent any untimely battery death on either device. The TomTom itself lasts for two houra on battery and thankfully relies on a micro USB port for charging.