This article is more than 1 year old
TomTom GO 6000 satnav chews on smarties and tablets
Kick out the jams this Christmas
Touch and go
Yet before you take to the open road, you'll need to sort out registration of the TomTom Go by hooking it up to a computer and running the MyDriveConnect app. Besides enabling any updates to be applied, it also has the facility to transfer Favourites, POI and other preferences from a selection of older TomTom satnavs to the latest Go model.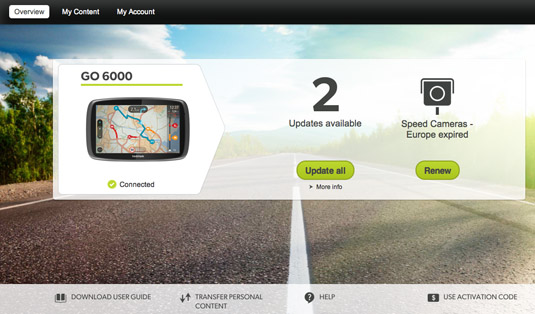 The MyDrive Mac and PC application handles updates. New users get Speed Camera updates as a three-month trial
Given TomTom's own acknowledgements of how tablet-friendliness should find its way into its navigation products, the absence of any kind of address book transfer is surprising. You'd have thought .VCF implementation would be easy enough or just some basic .csv importing, but no.
As one of the 39 per cent who have shunned owning a satnav – preferring my own local knowledge, maybe a quick glance at Google maps before setting off and on rare occasions, live phone tracking – I'm thinking TomTom could be a lot more helpful here, especially as you're having to link to a computer to get things started. Certainly, it seems like a missed opportunity.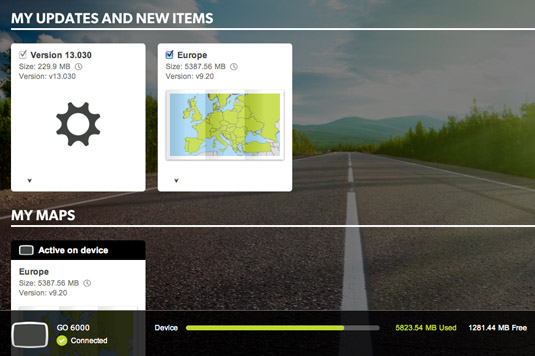 Updates available showing on the MyDrive app
My nearest and dearest is a potential customer for a new Garmin, Mio or TomTom as she doesn't venture any distance in the car without a satnav. She's been using a rather tired TomTom for over six years and was certainly keen to take the latest out for a spin. Despite some initial resistance to the idea of tethering her BlackBerry Z10, in use, this pairing with the Go 600 turned out to be trouble-free, although she did notice the battery drain. So when the Go 6000 turned up, she was a much happier camper.
Although you get free updates to the UK and European maps totalling 45 countries and Lifetime traffic too, the speed camera info is on a three month trial and updates cost £20 a year to cover 23 of those countries or £25 for additional info on mobile camera hotspots. It seems a bit of a swiz, but considering the cost of fines and the corrosive effect of points on the licence and it's hard to dismiss.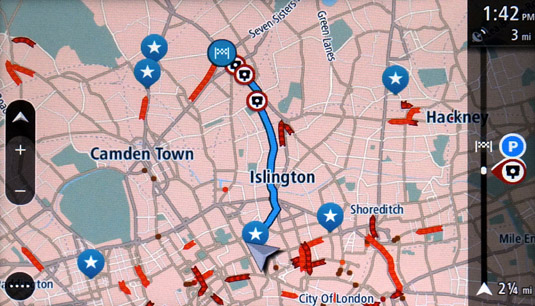 Two taps and you're away: Route with My Places locations shown as stars
TomTom's revamp is intended to allow driving in just two taps. This works up to a point. Sure you can prod an area on the map and then click the steering wheel drive icon that appears and you've a route planned to that point in two taps, but accessing your My Places address book involves a little more effort.
First, you'll need to tap the dotted Main Menu icon in the bottom right corner, tap the destination from the list which neatly shows you the place on the map, and then tap the drive icon and you're back to the map overview. So that's three taps. Press the View arrow above the Zoom buttons on the left and you'll descend to ground level.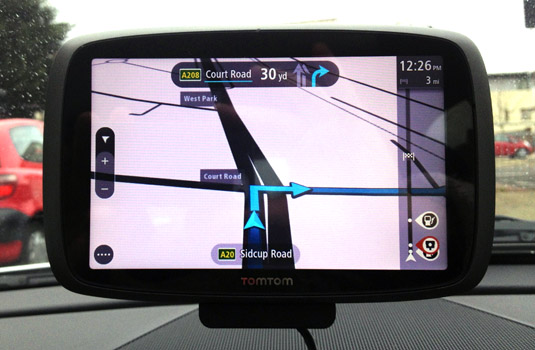 A clean interface with a very good screen mount and suction cup too
The interface looks really good and to avoid frustration you really should download the PDF manual get familiar with the on-screen icons. For instance, that View icon can easily get pressed accidentally when readjusting the position of the Go 6000 in its cradle and mysteriously change the view to overhead when you're in the thick of it. Needless to say, finding out the hard way how intuitive a product is can have its toe-curling moments.
Yet what really threw me had nothing to do with not knowing some new tricks, it was not knowing an old trick wasn't there any more. The thinking behind TomTom's makeover is to always offer the fastest route but in the process it has sacrificed offering alternative routes as a starting point. There is no option to calculate an alternative route from the off. So let's say I don't want to go into town via the Blackwall tunnel but would prefer to stay south while heading west, it won't provide that option. And yet those options will appear on any phone or tablet mapping app.