This article is more than 1 year old
TomTom GO 6000 satnav chews on smarties and tablets
Kick out the jams this Christmas
Travel plans
The only way around this is to deliberately add some Stop point to your route, so the journey is recalculated to go via this target. This is easy enough to do with a simple press and hold on the screen, but for a novice who say, has a phobia of tunnels, it's a rather clumsy way of performing one of the most basic satnav tasks – providing journey choices.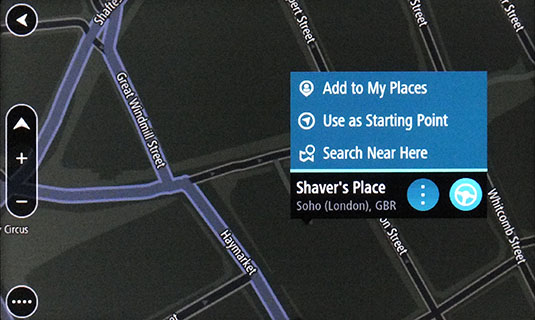 Tap anywhere on the map and drive to it and it to the My Places destinations address book
The TomTom Go 6000 only offers alternative routes when the current journey plan will take longer than originally anticipated due to congestion and a different route now appears quicker. And talking of quicker, the alternative suggestion doesn't hang about on the screen too long, so while you ponder the options, it can disappear and getting it back is another mystery. One approach being to clear the current journey and then plan it all over again. Again, this feels rather clumsy when you're on the road.
When it comes to adding new destinations, the TomTom shows some cleverness with attempts to auto-complete address names, displaying a dual view that simultaneously lists places of interest. This is a bit hit and miss though. Type in "Eltham" and you'll get various roads on the left and top of the POI list is Café Eltham followed by Costcutter Eltham – really interesting places – and scroll down the list of 20 POIs and there isn't a mention of Eltham Palace, which, being an English Heritage site, is a shocking omission.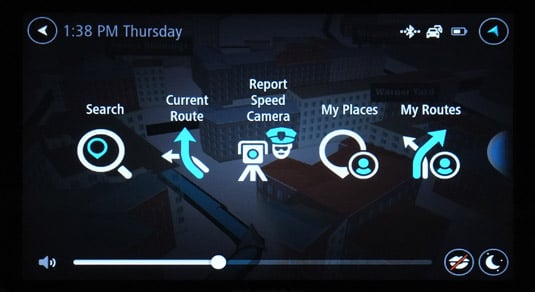 The Main Menu screen provides access to Search and other functions. Note the easy access to the volume slider at the bottom of the screen
Go the extra mile, so to speak, and type in "Eltham Palace" and it shows up, of course. Type in "Glastonbury Tor" and Tor appears in red as an unrecognised word. Admittedly you can't drive all the way to the Tor, but any mobile app will tell you how to drive close to it for a brisk walk up the hill. I actually tested this out on Apple Maps, Google Maps and Nokia Here, and all provided a route.
Still, if you know where you want to be, TomTom has copied some app sensibilities by allowing the Stop point mentioned above to be added to the My Places list. So if you can find it on the map – you can zoom and swipe around it like on a tablet – then you can add it to your destinations with just a couple of taps.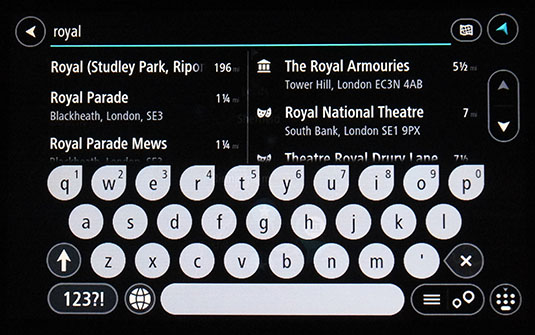 Search has a dual approach with both road and POI suggestions
TomTom's Traffic information is arguably the real reason for buying into the latest Go series as it is presented in well integrated manner on the main display, appearing on the position to destination Route Bar – a regularly changing information strip showing, among other thing, oncoming speed camera warnings and traffic congestion in different colours to convey severity, as well as the usual distance and arrival time estimates.
With the latter, the TomTom Go 6000 was pretty much spot on, and playing beat-the-satnav was only ever out by a few minutes from the off. Knowing about congestion trouble spots ahead of reaching them was helpful to a point, in that it would alter the destination time to suit. However, there were times on the motorway when the GPRS/GSM signal had failed, due to deadspots, likewise affecting mobile handsets too. Hence there were no warnings of the delays ahead. Only then does the reliance on this technology begin to grate.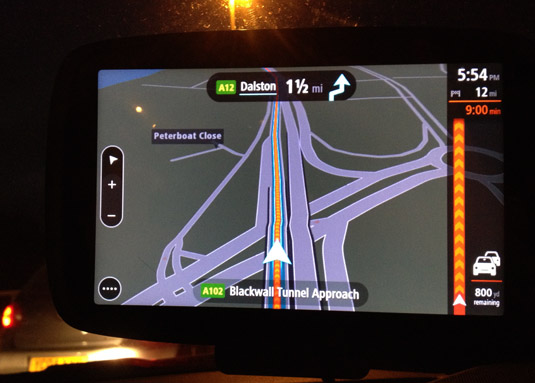 Estimated nine-minute delay time shown in red feels more bearable when the traffic is stationary
It happened in towns too with urban canyons, formed by towering buildings, blocking signals and almost always at the most complex of junctions so that the GPS tracking gets confused too. Other navigation devices aren't immune to this either, you just get caught out from time to time and it's another one of those experiences with travel tech that grates.
The Reg Verdict
Yet when it all comes together, you do get around more quickly. Her outdoors really noticed the difference stepping up to this new model, she liked the voices, the advance turn notifications and the improved address inputting aided by the Qwerty keypad. Having traffic congestion information with delay estimates and suggested alternative routes is something she'd never want to be without now, which is exactly the user reaction TomTom is hoping for.
Personally, I don't like flying blind and would favour the return of selecting alternative routes as a choice, rather have it appear as an option following traffic problems. TomTom's oversimplification with the revamped Go series does leave room for improvement but at least it delivers where it counts and consistently calculates the quickest way to get around.
However, the TomTom Go 6000 doesn't work miracles, as you still get stuck in traffic, but having an estimate of how long you'll have to endure a jam, does help subdue the frustration slightly, but given the widespread alternatives on mobiles and tablets, is that enough at this price? ®

TomTom GO 6000 satnav chews on smarties and tablets
Flagship satnav gets a revamped user interface with a more intuitive tablet-style approach to location functions and a swift two-tap navigation action.
Price:
£300 (GO 6000 with GSM/GPRS), £230 (GO 600 with Bluetooth tethering) RRP