This article is more than 1 year old
El Reg's contraptions confessional no.4: Yamaha retro synth, valve oscilloscope and more
Believe me, it's all bound to come in handy one day
Cache in the Attic For the The Register features on MIDI's 30th birthday, Bob Dormon fired up his trusty Atari ST 1040FM and an Apple PowerBook Duo 270c, but there's a good deal more than old computers in his haul hall of vintage tech. Still a novice in the art of chucking things out, here he tunes up, warms up and winds up a few old favourites.
Yamaha, Solartron and J.E. Dallas & Co.
When a friend of mine volunteered attic space in exchange for my laying a floor up there, she probably hadn't imagined that I'd be storing a pile of crap my precious tech in her loft for over 12 years. So it was with a certain amount of anxiety and relief that my selection of gadgetry actually functioned when I retrieved them.
The youngest item is my very first synthesiser – by this admission, you can probably tell I'm not in the habit of disposing of things that still work. Made in 1980, I bought my Yamaha CS-10 secondhand a few years later and proceeded to make some very nasty noises with it. The subtleties of its various modulators were new concepts to me, although the layout of this synth, with all its knobs for waveforms and envelopes, was a real lesson in soundshaping.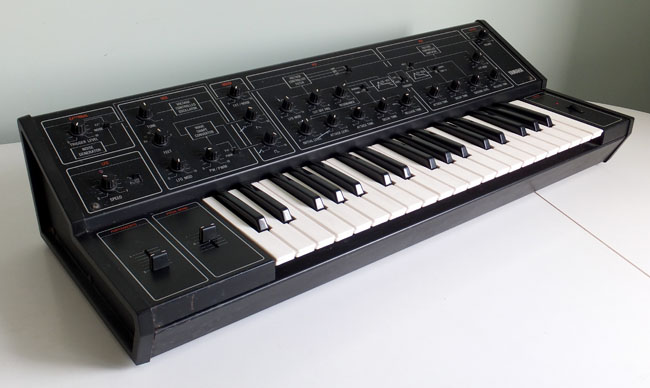 Yamaha CS10 monophonic synthesizer
Having only one oscillator, this monosynth was never the fattest sounding instrument of the times, but what I really appreciated about it was its external input. I could get autowah effects out of it when I plumbed in my guitar. Also, the trigger input when connected to a drum machine, could deliver pulsing basslines, the notes would have to be played on the keyboard though, no MIDI here.
Talking of MIDI, I always meant to get a MIDI-to-CV (control voltage) converter for it, but even the basic Philip Rees model was never cheap at £50, which was worth something back then. These days, Expert Sleeper's Silent Way offers a software alternative, enabling audio interfaces to deliver this function. It's about £42 and there's demo version too if you fancy giving it a try. The synth itself does seem have suffered slightly from its extended attic sabbatical, a couple of F keys don't work, but I'm guessing this could be bad contacts and can be remedied with some Servisol, a screwdriver and a sense of purpose. By the way, Yamaha still has the CS-10 user manual on its site if you're keen.
My Solartron oscilloscope could well have been made as far back as 1963, if the antique electronics enthusiast site Radiomuseum has its dates right. Vintage test gear site Jonz Valve Page even shows off its innards. The company started off as a British outfit in the 1950s and despite a few changes of hands, Solartron still has going concerns in the UK in various test equipment fields. Back in the 1980s, I acquired my Solarscope CD 1014.3 from an electronics firm I worked for. It had been dumped, as it was no longer cost effective to service and calibrate – the timebase autotriggering had also lost some of its sturdiness. Still, it always worked well enough for my general signal tracing needs.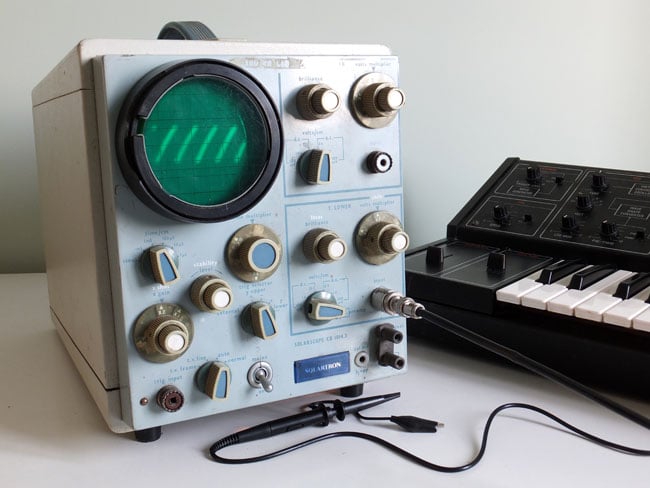 Solartron CD 1014.3 oscilloscope displaying Yamaha synth sawtooth output on one of its blurry days
Fresh from the attic and looking decidedly grubby, I gave this old lady a day or two to acclimatise before turning it on. When I did finally power it up, alas, nothing happened. Well it looked that way, but it was just warming up, which took minutes rather than seconds.
Eventually, a blurry beam appeared and, despite adjustments, stayed that way. Then I realised I was making focus changes far too quickly, as there was a delayed response. Take things slowly and the knob twiddling eventually delivers a beam of satisfaction. I hooked up the scope to the Yamaha CS-10 and soon, saw tooth waveforms graced its graticule and a dusty scent filled the room as it continued to warm up.
Once in a while you see something and it just charms you into buying it. Indeed, that's what happened during a visit to the old Greenwich market in the mid-1990s when I spied a Triumph portable wind-up gramophone from J.E Dallas & Sons. Thirty quid later and it was mine along with a bunch of 78RPM records. I always thought, if the lights go out, I'll still have music, as it's entirely mechanical.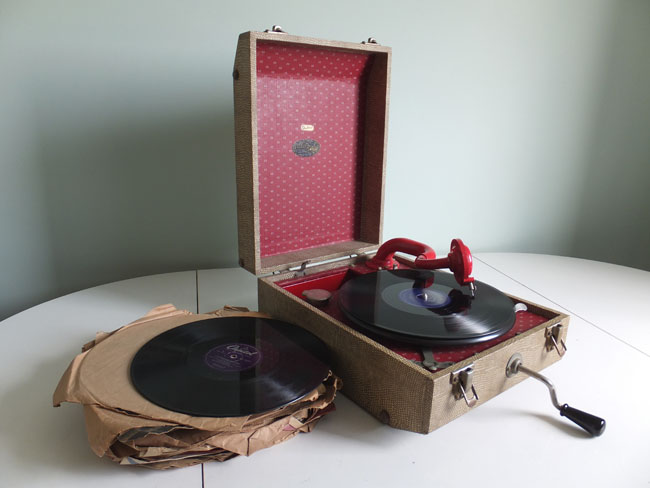 J.E. Dallas and Sons Triumph wind-up gramophone
Turning the handle for the first time in ages had me wondering if I'd hear some deathly twangs or creaks, but luckily not. The turntable spun slowly, as if it was getting out of bed, and the first platter groaned inconsistently. Another full crank though, and all was well. A steady speed and a generally pleasing tone from this player which is thankfully, not the raucously loud sort.
Given its portability, good condition and overall fetching styling, I'd assumed the Triumph to be from the 1950s but UK industrial history site Grace's Guide suggests this British company started off with banjos in 1875 and much later Jedson guitars, but didn't begin gramophone production until the late 1920s. So my phonographic find is probably in its eighties, but still in very good voice with plenty of spare needles in the tin. ®