Champagne corks will be popping in a Seattle startup this evening.
Cyanogen, the company behind alternative Android distribution CyanogenMod, has banked $23m in series-B funding – and Google has given its blessing to allow a smartphone to ship with the team's operating system installed.
The double whammy of funding and a phone deal means a CyanogenMod-flavored Oppo N1 mobe is due to ship on December 24, a Cyanogen developer announced on Friday.
An N1 that runs Android 4.2 is already available; presumably, the model shipping with CyanogenMod 10.2 will be similarly spec'd. The N1 is a 5.9in handset powered by a quad-core 1.7GHz ARM-compatible Qualcomm Snapdragon 600 system-on-chip with 2GB of RAM, 1920 x 1080-pixel IPS display and 13Mp camera, and 16GB or 32GB of storage.
"Google just approved our first CyanogenMod phone," wrote Koushik Dutta on Google+ today, signaling that apps from the Google Play Store can be easily installed on the gear – seeing as it has now passed Android's compatibility tests.
"Man, the last 24 hours has been a total roller coaster of emotions, and it isn't letting up it seems. Google just approved our build for production. We're shipping the CyanogenMod version of the N1 on Christmas Eve."
The phone announcement follows Cyanogen Inc announcing on Thursday that it had been fed $23m in funding from Chinese mobile powerhouse Tencent and Valley VC firm Andreessen Horowitz to help it develop the customized Android variant, giving a festive injection of optimism to the Google-wary fandroid crowd.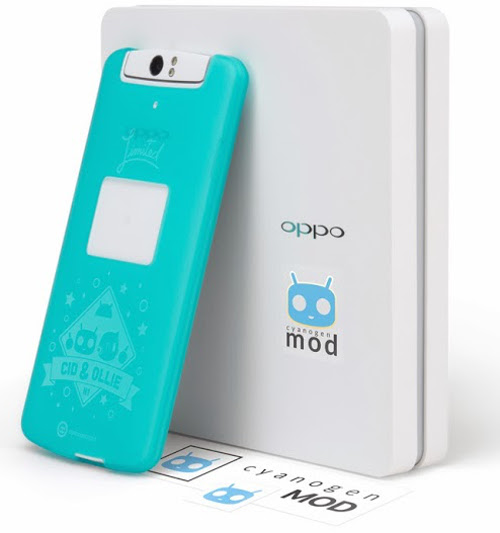 Beneath your Christmas tree: Mince pies, Rum, and a Cyanogen pre-installed N1 phone.
"This new influx of capital will primarily be used to grow our engineering team as well as our UX, design, and product teams so that we can continue to build the next generation of mobile experience," wrote CyanogenMod founder and now Cyanogen chief technology officer Steve Kondik in a blog post on Thursday.
"What does this mean for you as a CM [CyanogenMod] user? Not much yet, except that you'll see more new things from us more often. We will continue to invest in the community by way of increased resources, sponsoring more events, and of course staying open. You'll see new apps and features from us, new services, and also more devices which run CM out of the box."
This follows the independent firmware project becoming a company in September, flush with $7m in series-A funding from Benchmark Capital and Redpoint Ventures. CyanogenMod has been built to have greater performance and reliability over official Android ROMs, the company says.
The mod has support for features like CPU over-clocking, USB tethering, the FLAC audio codec, and others.
"If you've got an older device that isn't getting updates anymore, or if your device seems unusually slow, or maybe you're sick of spyware, adware, and other unwanted garbage on your phone that you can't remove... Maybe your device is missing features or has been otherwise artificially limited in functionality. Perhaps you just could use a boost in performance... Or maybe you'd like to be more confident that your operating system has included some of the latest bug fixes... If so, CM might be for you," according to a CyanogenMod FAQ page.
The rise of Cyanogen has not been without setbacks: Google pulled the CyanogenMod installer from the Google Play app store in late November this year, apparently because the app violates the store's terms and conditions – and the web giant sent a cease-and-desist letter to the mod team way back in 2009. ®
Similar topics