This article is more than 1 year old
Android, Chromebooks storm channel as Windows PC sales go flat
Google gave Microsoft a drubbing in 2013 – analyst
Despite all the carping about the slumping PC market, it really wasn't such a bad year for channel computing sales, with devices based on Google technologies pulling ahead as the clear winners.
According to the latest numbers from market analysis firm NPD, overall sales of desktops, notebooks, and tablets through the channel in 2013 were up 25.4 per cent over the previous year. Notebook sales were up 28.9 per cent, and even the much-dismissed desktop category saw channel sales increase 8.5 per cent.
What was different about 2013, however, was the degree to which Microsoft's domination of the computing market gave way to other platforms. While sales of Windows desktops were up nearly 10 per cent since 2012 – a modest increase – sales of Windows notebooks were flat.
Meanwhile, devices based on Google's Android and Chrome OS platforms were charging through the channel like racehorses. Chromebooks and Android tablets together accounted for 1.76 million channel sales in 2013, a 340 per cent increase from the previous year.
Chromebooks, with their attractive low prices, were all but invisible in 2012, yet they accounted for 21 per cent of all notebook sales this year and 8 per cent of all computer and tablet sales combined.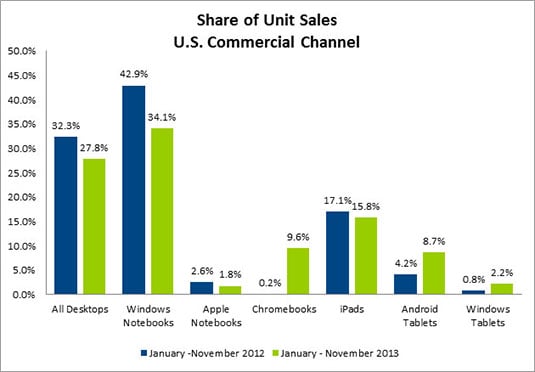 Sales of traditional PCs waned while tablets and Chromebooks were on the rise (Source: NPD)
But tablets were the real hot sellers. With sales up 49 per cent since last year, fondleslabs accounted for 22 per cent of all computing devices sold through the channel in 2013. Apple's iPad was still the leader, with a 59 per cent share of the sales volume, but sales of Android tablets grew by 160 per cent.
Even Windows tablets, which have struggled to carve out a niche, saw some sales growth. In fact, sales of Microsoft-powered slabs tripled over the previous year, although NPD observes that this is coming off "a very small base."
What's interesting, however, is that while channel customers were gobbling up tablets by the millions, the traditional channel heavyweights were doing a poor job of supplying them. HP, the overall channel sales leader, saw its notebook sales increase by 6 per cent, NPD notes, but its share of the overall sales volume still went down because it lacks a strong presence in the Android tablet market. Lenovo, similarly, saw its overall market share remain flat.
That left the door wide open for Samsung, which has already dominated the global smartphone industry and has made no secret that it intends to do the same for tablets. The Korean giant corralled a 10 per cent unit share of the channel in 2013, up from a 1.7 per cent share the previous year, with a phenomenal year-over-year sales growth of 678 per cent.
"As businesses upgrade from older machines and operating systems in the year ahead," NPD veep Stephen Baker said in a canned statement, "the long-term trend is clearly towards greater hardware diversity, which all manufacturers will need to embrace in order to continue to grow."
For "greater hardware diversity," however, you may as well substitute "greater software diversity." The real eye-opener here was how much of the hardware sold this year shipped with software other than Windows – a point that must surely give Microsoft's next CEO (whomever that turns out to be) considerable pause. ®