This article is more than 1 year old
Ubuntu unleashes dual boot tool for Android mobes'n'slabs
Is that a Grub in your pocket or are you booting up?
Canonical has just given curious Reg readers something interesting to to do in the dead days between Christmas and whenever you go back to work: figuring out how to dual boot an Android phone.
The Ubuntu custodian company has slipped out a developer preview of a new dual boot tool that allows owners a limited number of Android devices to install Ubuntu for mobiles alongside Android.
The tool has only been tested on four devices – the Galaxy Nexus, Nexus 4, Nexus 7 and Nexus 10 – but Ubuntu says the tools that make dual boot possible should work on 50 Android machines listed here.
Once you run the tool and run Ubuntu, you'll have the chance to exercise the options depicted below.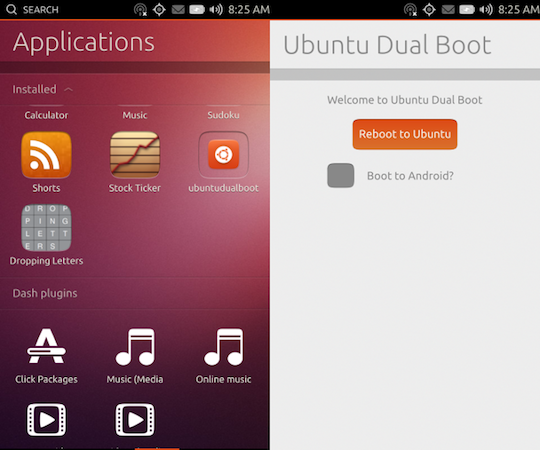 Ubuntu or Android? The choice is yours.
Before you put yourself in the position to consider this choice, know that this tool "is not part of the regular Ubuntu release" and "was born as an internal skunkworks project some Canonical Engineers dedicated a limited amount of their time to."
In other words, it works but don't expect perfection. Which sounds like just the kind of challenge to keep you busy once you tire of eating, drinking and being nice to relatives. ®