Ubuntu desktop is so 2013... All hail 2014 Ubuntu mobile
Does this mean Linux gets a real chance on mobile?
Canonical founder Mark Shuttleworth is no stranger to exploring rarefied territory. The man has, after all, been to space.
His interest in new frontiers means Ubuntu, the Linux distro he created, is also poised to make a great leap - to go where no Linux has gone before.
Shuttleworth's plan to take Linux beyond the desktop and into the world of consumer devices may be his most daring and, if it works, lasting idea.
Ubuntu is headed for orbit. But, just as you don't want to get too close to a launching rocket, getting to close to Ubuntu right now may be risky.
There's a lot of heat and debris flying at the moment. Casualties have thus far included a bit of privacy (fixable, but still unsettling) and a general neglect of what was once the focus - the Ubuntu desktop.
Sometimes it shows: that controversial search feature wasn't exactly great at finding what you wanted.
Also, the Mir windowing system that was supposed to bring more touch to the desktop got yanked weeks before its supposed release, because of outstanding technical problems.
It's not that Ubuntu has abandoned the desktop, but it does seem clear that its interests, at least currently, are elsewhere. There were the usual spring and autumn desktop updates, Ubuntu 13.04 and 13.10 respectively, but neither brought much in the way of new stuff to the desktop.
If Ubuntu were just another Linux desktop, this would be the space where we question just what the heck its developers are doing. But Ubuntu is no longer just another Linux desktop.
Just 12 months ago, Ubuntu was yet another Linux desktop. In that sense, looking back at 2013, it would be perfectly reasonable to say it was a very boring year for Ubuntu. So long as you confine the meaning of "Ubuntu" to "actual shipping, desktop operating system" then it was a largely unremarkable year. The roadmap for 2014 looks similarly dull on the desktop. There's a new display server coming, a change that most users will never notice. The usual incremental app updates and bug fixes are also inevitable. Yawn.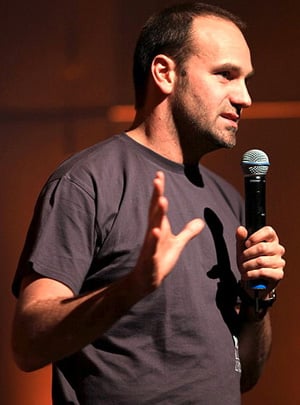 Shuttleworth looks beyond the desktop
It's all about the Touch
What has made and will continue to make Ubuntu the distro to watch in 2014 is not desktop Ubuntu: it is Ubuntu Touch.
What made 2013 a really exciting year for Ubuntu fans was the revelation that Canonical was going to put a real Linux distro on a phone. You could argue that Android is Linux – peel back the virtual machine layers and technically Android runs atop a Linux kernel – but Android pales next to the full power of Linux on your phone.
When Shuttleworth announced Ubuntu Touch, he didn't just move Canonical into a new market, he reignited the nerd fantasy of real Linux-based phones, which taps a market well beyond Ubuntu's usual share of the Linux desktop. Like many, I don't use Ubuntu on the desktop, but I will be lining up when the first Ubuntu phones hit the market.
Why? Because the future is mobile. I don't mean mobile in the meaningless buzzword sense, but literally mobile, as in light enough to take anywhere. Light enough to always be with you. Couple of relatively cheap, small, lightweight hardware with server-based file storage systems like Ubuntu One or Dropbox and you finally have the fabled thin client we've been hearing about for decades now.
To paraphrase an old Apple ad, an Ubuntu Touch offers your desktop in your pocket. Thanks to that Mir display server that no one will notice you literally have a desktop in your pocket; all you have to do is plug your phone into a larger monitor and Ubuntu Touch will reveal a desktop size interface. The "desktop" version of Ubuntu in 2018 will be your Ubuntu Touch device docked to an 8K ultra-HD monitor. Who doesn't want that?