Ubuntu desktop is so 2013... All hail 2014 Ubuntu mobile
Does this mean Linux gets a real chance on mobile?
Getting in first while the going's good
But more even than the convenience of your desktop in your pocket, Ubuntu Touch gives Linux a chance that it has never had before.
Linux has always been an also-ran on the desktop, not just in market and mind-share, but in metaphor. The Linux desktop has always aped the Windows and Mac desktops. Not necessarily in looks (though often there too), but certainly in metaphor. Leaving aside philosophical considerations, what separates Linux from Windows or OS X is really no more than a coat of paint.
Menus are menus, dialog boxes are dialog boxes. The basic premise of the point-and-click GUI interface was set in stone well before desktop Linux became a viable product. That's not necessarily a bad thing, universality means commonality and makes it easier to move from one thing to the next.
But the fact that so much of the desktop computing paradigm was already established before Linux arrived on the scene also means that it never had a chance to innovate or create its own metaphors.
That's not true in the mobile space. Mobile devices and touch screens are still very young; users are still very open to new ways of interacting. For example, two years ago no one was pulling to refresh apps, now every one is. There's still a chance to innovate here, to set the metaphors and interaction language of touch-based and mobile computing.
Apple's iOS is currently leading the way when it comes to setting the metaphors of mobile computing. Android and other offerings have, thus far, done little beyond copy the touching-little-buttons and other interface metaphors Apple brought to the masses when iOS debuted. But even Apple is still rethinking very basic elements of the mobile interface, as iOS 7 attests.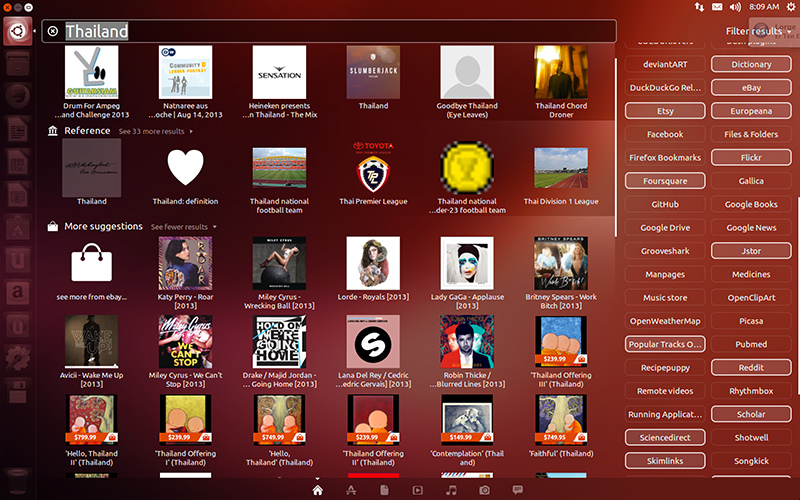 Search in Ubuntu 13.10 was a work in progress
Into this still forming world comes Ubuntu Touch, and with it a chance for Linux to get in on the act of establishing metaphors and interaction paradigms. Ubuntu Touch has a chance to not just ape iOS and Android, but to write its own vision of the mobile/touch interaction paradigm. Will it? Who knows. but the opportunity is there and for now that's what matters.
What I think we will start to see in 2014 isn't just Ubuntu Touch, but Canonical's larger vision of what the future of computing should look like. Already Canonical's vision differs from the existing paradigms. The everything-in-your-pocket approach, which allows you to just plug a phone (or tablet) into a larger monitor, is very different than what iOS or Android are doing. Android and iOS see themselves as supplemental. From what we've seen so far, Ubuntu Touch sees itself as fundamental.
Ubuntu's vision with Touch feels longer-range than that of its rivals. Right now phone and tablet hardware isn't powerful enough for some use cases of the all-in-one device Ubuntu Touch envisions. But phone and tablet hardware is getting more powerful every day. By the same token, as anyone who has installed Ubuntu Touch can tell you, it's not ready yet either.
Ubuntu Touch is a gamble and it may not work at all. It may be too far ahead of its time. It may end up another also-ran idea, joining MeeGo, webOS and other failures in the graveyard of mobile OSes. There's still a long way to go, too, judging by the travails over Mir.
At the same time, if Ubuntu Touch can realise its ambitions, it has a chance to change the face of mobile computing for good. Either way, it's safe to assume 2014 is going to be a wild ride for Ubuntu fans. ®