This article is more than 1 year old
HTC: Shipping Android updates is harder than you think – here's why
It's a long and winding road from Google to your pocket
If you're wondering why your HTC smartphone hasn't been updated with the latest version of Android yet, the struggling smartphone vendor wants you to know it's not its fault – at least, not entirely.
While Apple likes to brag about how quickly its iPhone and iPad devices receive updates to the latest iOS version, Android devices are notorious for lagging behind the state of the art, with many devices only receiving one or two minor OS updates before seemingly being abandoned by their makers.
Understandably, that has angered more than a few Android users over the years: many point a finger at the hardware vendors which, according to the users, aren't doing enough to keep products relevant.
But HTC wants us to know that shipping a new Android version to existing phones is easier said than done – in fact, it's downright difficult.
In a post to its website on Thursday, the Taiwanese firm published an infographic describing the process of preparing a new Android release to run on real-world hardware, and it's a doozy. The full procedure requires no less than 12 steps, the Taiwanese mobe-maker claims, and Google, HTC's upstream suppliers, wireless carriers, and even the government are all involved.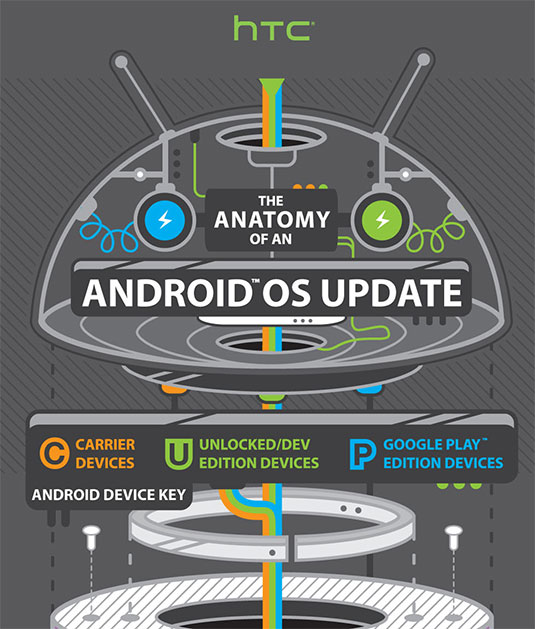 HTC wants you to know just what a rough time it has shipping new Android versions (click for full graphic)
The saga begins when Google releases a new Platform Development Kit (PDK) to handset makers so that they can evaluate the latest changes. Typically this happens a few months before the Chocolate Factory announces a new Android version.
Assuming the hardware vendors want to support the new version, however, that's only the start of the journey. Next Google must provide source code to the handset makers and the companies that provide the chipsets that go into the phones. It is the chipset makers who decide which of their parts will support the latest Android versions; if an older phone was built with an unsupported chipset, that device will never be upgraded.
Once the chipset makers decide which of their components will support the new OS, they must then make optimizations for those chipsets and issue new drivers in the form of board support packages (BSPs) for those parts.
That's when the handset makers kick into high gear, assigning developers and resources to the task of fitting the new OS to the devices that support it. This is also the phase in which the vendors add their custom Android modifications, such as the HTC Sense UI layer.
Then it's time for the handset makers to start working with the mobile operators, folding in any modifications that they may require and tacking on their custom apps and services.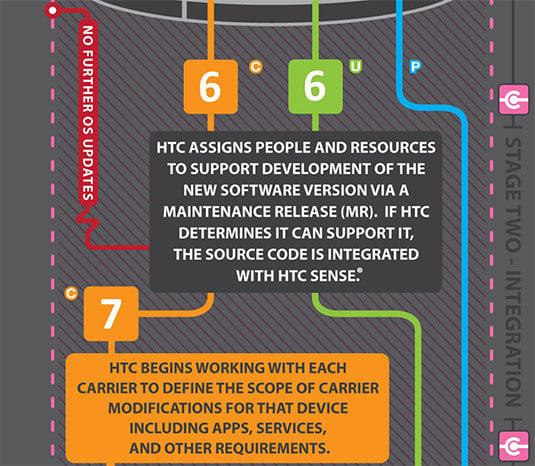 Lots of things need to happen before HTC gets involved (click for full graphic)
That phase completed, it's time for testing. Here's where the handset makers, regulatory agencies, industry certification bodies, and Google all get involved, poking and prodding the vendor's code until they're all satisfied that it meets their requirements. Whenever any of them discovers a bug or other anomaly, fixes must be incorporated into the code that must then be resubmitted for more testing.
Only after all of this is done can the handset maker, the carriers, and Google begin working together to prepare an over-the-air (OTA) update to push out to existing devices.
You can view HTC's full infographic here, but be ready to scroll – the whole thing spools out for several screens.
The graphic is a rare and interesting look at the inner workings of the Android ecosystem as seen by a handset maker. Really, though, it's just a long-winded way for HTC to say that it's very, very sorry that it hasn't shipped Android 4.4 "KitKat" for its flagship HTC One handsets yet, but the update is on its way.
According to HTC's chart, the new code is ready now for unlocked, developer, and Google editions of the HTC One, and the Taiwanese firm is currently working with carriers to get it working on their respective networks. ®