This article is more than 1 year old
Acer C720 Chromebook with Haswell battery boosting goodness
Fancy a virus-free, always updated 2014?
Review You know, sometimes you've got to wonder what enables a design to go into production. I'm looking at the Acer C720 Chromebook and appreciating its dinkiness, the non-reflective 11.6in TFT screen and the fact that it was more than happy to take a bog-standard USB Ethernet adapter and run with it.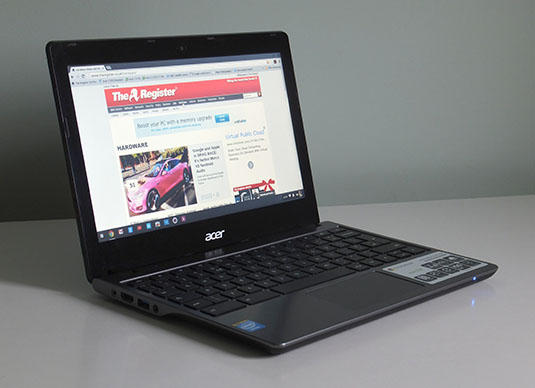 Acer's C720 Chromebook battery life benefits from Intel's Haswell micro-architecture
So far, I'm feeling fairly positive about this Acer-Google computing combo, especially that matt finish display. It makes such a pleasant change to not do battle with overhead lights while adjusting the screen tilt angle, which goes back some way too.
The understated, not-especially-shiny ash plastic finish around the charcoal chiclet keys is quite attractive too. Somebody has obviously put a lot of thought into this. So why is the frame around the screen a super-reflective gloss black? You might not see your fingers flit about on the display, but they're doing a mirror dance in the frame. And it was all going so well…

Sockets for power, HDMI, USB 3.0 and mic/headphone adorn the left side
Such are my first impressions of this otherwise rather stylish Chromebook. That shiny display frame notwithstanding – actually, I'm over that now – Acer has it in mind that kids and cash strapped customers alike, won't feel like they're being shortchanged on style, despite the choice of Google's OS shortchanging them in quite a few other areas.
Storage anyone? Naturally, Google wants you to use its Drive cloud service and with this Chromebook you can sign up for 100GB free for two years. With a few exceptions, the local storage on Chromebooks has, by design, been pitifully small and the Acer C720 boasts 16GB internal SSD, but for some reason it seems closer to 10GB when you view the Downloads folder in the Files app with the Google Drive reporting around 15GB offline.

An SD card slot and a USB 2.0 port along with a Kensington lock slot feature on the right side
The claimed 8.5hr battery life from this configuration is all down to the current Haswell micro-architecture enhancements that have trickled down to this Intel Celeron 2955U dual-core 1.4GHz CPU. I've had it asleep for the best part of a week and found plenty of battery life left. It really does keep going on and on, awakens in a trice and boots up in seconds too.
Acer has cut the memory down to 2GB of RAM compared to 4GB offered on a number of competing models including its own C710 from earlier in 2013. You'll find references to a 4GB C720 in the US but it's not on sale in the UK, well not yet. The Celeron chip also features Intel HD Graphics which can spit out full HD to a separate monitor via the HDMI interfacing.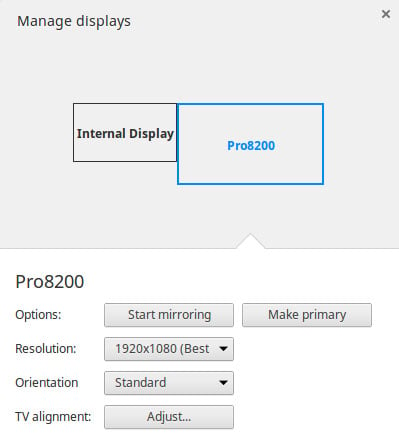 Extended desktop accommodates a full HD output
I'm trying it out now with a Viewsonic Pro8200 HD projector providing an extended desktop and the 1080p movie hasn't skipped a beat. I'm on my second movie now to see how long the battery lasts in this scenario. Meanwhile, I type away on Google docs viewed on the Acer C720 Chromebook screen. It did well, managing to perform this two hander for four hours without any screen dimming on its own display.
I do miss a backlit keyboard though and the keys themselves don't have much in the way of travel and are quite lightly sprung. There's not too much clatter or flexing and the multitouch trackpad responds well without being too clicky. The only real weirdness is the lack of a Caps Lock key, which has been replaced by a Search function, like we need it?