This article is more than 1 year old
Acer C720 Chromebook with Haswell battery boosting goodness
Fancy a virus-free, always updated 2014?
The dual in the Chrome
The main difference here, is this Asus weighs a mere 1.25kg and at 288 x 204 x 19mm is only marginally more bother to lug around than 10in iPad 2 with a cover. So while the future of the PC may well be uncertain, the more we see of these lightweight, light on the wallet, low-power laptops does suggest a rather different future that isn't in the form of an Ultrabook, if you're prepared to make a few sacrifices.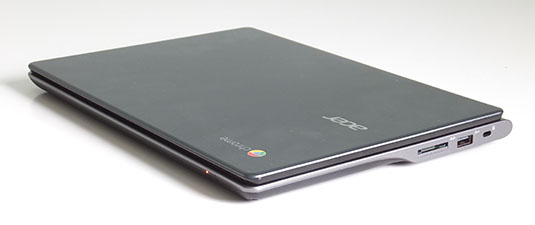 The all-plastic casing keeps the weight down, just don't drop it
Apart from the build quality – which is fine although plastic and the lid is a bit flimsy – those sacrifices aren't really anything to do with Acer, it's just providing the hardware for this platform. The C720 is easy to like, but Chrome still has its shortcomings.
For instance, you'd think that with Google's obsession with the cloud you might be able to get somewhere with a NAS box. Apparently Java often plays a part here and your mileage may vary depending on your NAS maker. Hence, using IP addresses from the browser, attempts to connect to Synology DS410 NAS failed but running an Asustor AS-304T worked just fine. This really is the sort of thing you'd hope to have resolved by apps offered in the Chrome store.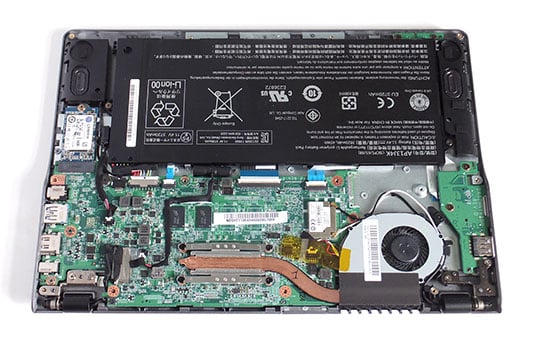 You'll void the warranty by opening it up – the memory is soldered on but you can swap the SSD. Note the three-cell battery label states 3720mAh Li-ion, not 3900mAh as quoted in the specs
Click for a larger image
Incidentally, the built-in speakers are your usual low-fi laptop fare but are quite loud and not ear piercingly bright. The 1.3Mp web cam and mic are perfectly adequate too. The colour balance is all over the place, but the image is sharp enough. I did have some luck with the Pure Connect streaming service too and even managed to get this to hook up wirelessly to a Revo Supersignal, featured in our recent DAB-Bluetooth combo radios round-up, whilst simultaneously browsing Google Streetview.
Streetview, of course, uses Flash and Chrome relies heavily on this Adobe plug-in enabler for more than compatibility with popular web sites such as Facebook. A fair amount of software featured on the Chrome Web Store is compiled as self-contained Flash apps. One of the most popular is Pixlr Editor from Autodesk. It's the closest thing you'll find to Photoshop for Chrome.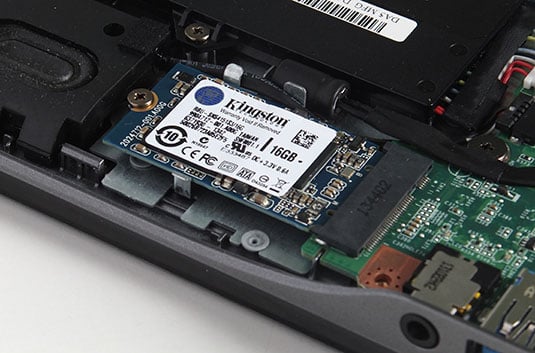 This 16GB Kingston SSD is removable, but there aren't many NGFF (next generation form factor) storage options to replace it with just yet
While it is perfectly functional and actually makes the Chrome experience bearable by providing a comprehensive range of image editing functions for nothing, it does have a rather major flaw. Unfortunately, none of the key commands work even though they're listed alongside tasks on the various drop down menus. It seems working in this Flash-based walled garden from within Chrome needs some refinement, as the navigation is all point and click.
And if image editing from a mobile appeals, then you'll need to e-mail those pics. I tried an Apple iPhone 4S, a Nokia Lumia 820 Windows Phone and a Moto G Android handset and none of them would mount as USB drives, despite various notifications on their screens recognising a computer connection. Lest we forget printing – you'll need to go round the houses with Google's Cloud Print to get a hard copy, even if you've a printer sat next to you. As it says in the Settings info "Don't try to plug your printer into your Chromebook--it won't work!"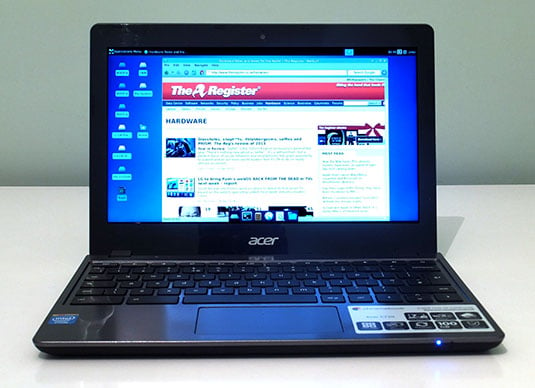 Swapping over to a full blown Linux alternative is easier than you might think on a Chromebook
Sure there are new printers that support Cloud Print these days, but how often do you replace a printer? Probably not as often as a laptop. Still, you do have the option to run a mainstream Linux distro alongside Google's Chrome, which is also Linux-based. One way is to use Crouton, which is a breeze. After installation, simple key commands switch between them Chrome and Ubuntu without the need for restarts. It's very straightforward to set up with Ubuntu and both share the same Downloads folder, so documents can be interchanged easily.
The Reg Verdict
I'll admit I'm warming to Chrome, but it's a relationship that's still far from cosy. The useful app choices remain very limited and the OS still feels rough round the edges in places and the printing limitations are as annoying as ever. Yet, whatever you think about Google's Chromebook experience, Acer has turned out a respectable, compact notebook at an affordable price with an all day battery life.
Certainly, given the cost of alternatives, such as the Asus T100 Windows 8 touchscreen convertible at £150 more, those working to a rigid budget will be taking a long hard look at this always updated, virus-free Google experience.
Indeed, the dual OS set-up running Chrome and an alternative flavour of Linux is definitely appealing and the SD card slot can take care of storage expansion, if required. This combination of functional inexpensive hardware and a level of versatility should ensure the Acer C720 Chromebook will have its share of fans. ®

Acer C720 Chromebook with Haswell battery boosting goodness
Chromebook featuring an 11.6in, 1368 x 768-pixels matt display, 1.4GHz Intel Celeron CPU, 2GB of DDR3L SDRAM and a 16GB SSD.