Private space truck ready for ISS trip as soon as NEXT WEEK
Cygnus capsule good to go
NASA and Orbital Sciences Corporation have announced that the private Cygnus space truck (PDF) will head off to the International Space Station no earlier than 7 January, on the system's first cargo resupply mission to the orbiting outpost.
Following a launch abort on 19 December last year, Cygnus will finally head heavenwards from Wallops Flight Facility in Virginia on Tuesday next week. It'll ride Orbital Sciences' Atares lifter, powered by a pair of Aerojet AJ-26 motors.

Packing a punch: AJ-26 motors (click for as bigger version)
The AJ-26s are based on the Soviet-designed NK-33, and their "simple design" uses old school kerosene/LOX to claim the "highest thrust-to-weight kerosene engine" crown. According to manufacturer Aerojet Rocketdyne, "the first stage engine configuration produces 380,000 lbf (1,690,324N) thrust in vacuum conditions".
Cygnus itself uses a CASTOR 30 upper stage booster, packing 12,750kg of 20 per cent aluminium powder bound in hydroxyl-terminated polybutadiene (HTPB). Maximum thrust during the 153-second burn is 350,697N.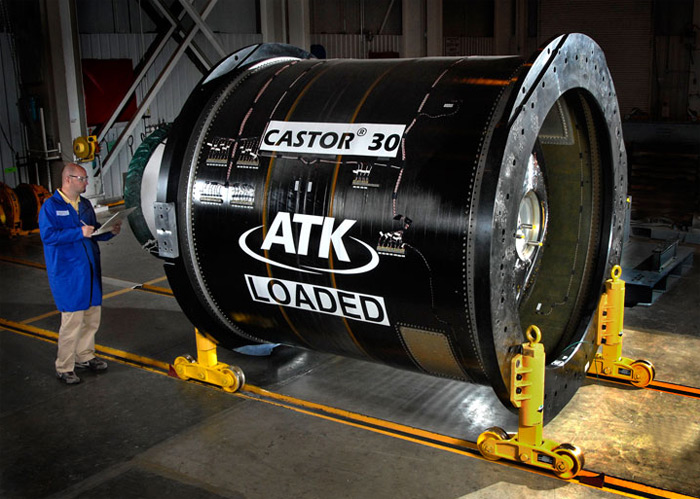 The CASTOR 30
Antares' first launch was in April last year, when it carried a dummy payload ahead of a demonstration supply mission to the ISS.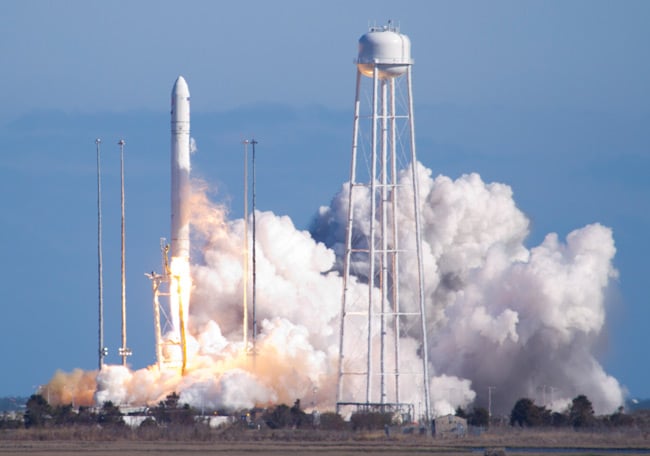 Antares lifts off on 21 April 2013
The demonstration flight launched on 18 September 2013, when Cygnus docked successfully with the space station, albeit after a software glitch delayed the mating.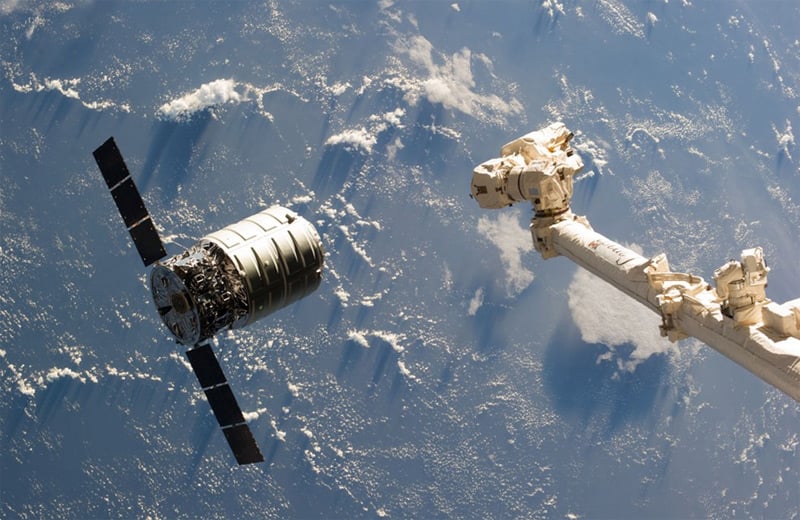 Cygnus approaches the ISS in September 2103
Antares and Cygnus form part of NASA's lucrative Commercial Orbital Transportation Services (COTS) programme.
Orbital Sciences will bank $1.9bn for eight resupply missions to the ISS, carrying around 2,000kg cargo per flight. Rival SpaceX is contracted for 12 flights, for a total of $1.6bn. Its proven Falcon 9 rocket / Dragon capsule system has a maximum capacity of roughly 3,300kg of cargo.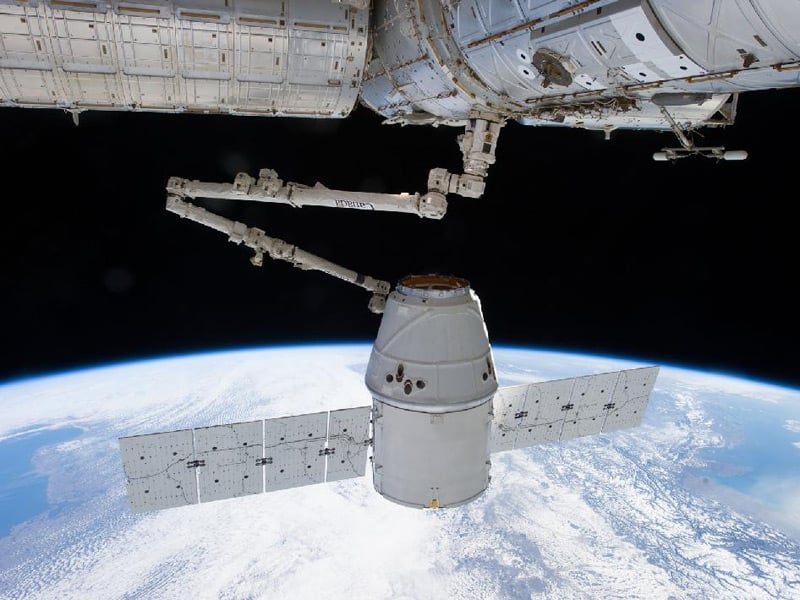 A Dragon capsule at the ISS in March 2013
Assuming Cygnus successfully reaches the ISS, it will eventually be consigned to a fiery death in Earth's atmosphere. SpaceX's Dragon is designed for a less terminal re-entry and parachute descent, followed by recovery from the Pacific. Accordingly, it's "the only spacecraft in the world today capable of returning significant amounts of cargo to Earth". ®