This article is more than 1 year old
Only iPhone fondling rose at Xmas: Were non-Apple fans in a turkey coma?
Admen report: Biggest loser was Samsung – but tablets are another story
Apple was the only smartphone manufacturer whose handsets saw an increase in usage in the US and Canada during the just-ended holiday season – though only a minor one. But its fortunes declined in the tablet market, where Amazon and Microsoft led the usage-gain pack.
These conclusions aren't based on hard sales numbers – it will be some time before those figures appear – but rather on "a sample of tens of millions" of ads fetched by smartphone and tablets from the Chitika online advertising network.
According to a report released Thursday by Chitika Insights, which covered ad impressions from December 20 to 29, the iPhone's usage share increased by 1.8 per cent compared with pre-Christmas usage, and exhibited the largest usage share by far at 54.3 per cent.
No other manufacturer's handsets enjoyed an increase. Google held steady, while all others saw declines, with Samsung's decline of 0.8 per cent being the largest. Although the South Korean giant's usage share of 23.7 per cent was far greater than any of its non-Cupertinian competitors, it remained well under half of Apple's.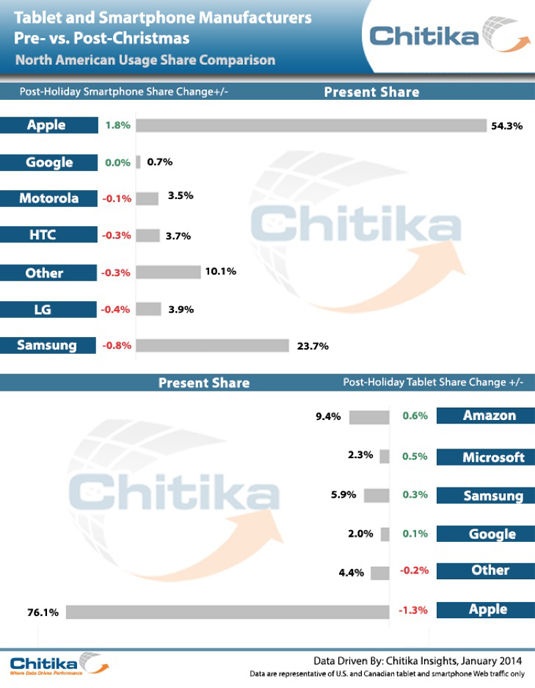 How are those Galaxy S 4 sales going, Sammy?
In the tablet market, the story was reversed. Instead of an increase, Apple saw the biggest decline in ad impressions during the period surveyed, with a drop of 1.3 per cent when compared to pre-Christmas usage. Its overall usage share of 76.1 per cent, however, continued to dwarf that of its competition.
The biggest usage increases among tablets were by Amazon's Kindle line. "With the increase," Chitika noted, "the Kindle Fire has continued its remarkable run to the top of the Android tablet marketplace – it's the second year in a row in which the tablet family has posted the largest post-Christmas tablet usage share gain."
Redmond was close behind. "Microsoft's Surface lineup also continued its impressive year end run," the report says "Surface users generated more tablet traffic than all Google Nexus tablet users following the holiday, making Microsoft the fourth-largest source of continental tablet Web traffic should it maintain the lion's share of this latest share growth."
As we noted above, these rankings aren't based on actual sales figures, but on ad impressions, and as such they should be regarded as indications of trends and usage patterns rather than market share. In its full report (registration required), Chitika is careful to note that they're measuring impressions, not users – if a single user views 10 pages that contain Chitika code, for example, they will register 10 ad impressions.
That said, the online ad network's holiday usage figures should tamp down some "Peak Apple" rumblings, as well as bring a little post-holiday cheer to Bezos & Co. ®