Curiosity rover: While you humans were busy being hungover, this bot hit its 500th Martian day
The not-so-little NASA nuke tank that could
While here on Earth we humans were recovering from celebrating another solar orbit with the usual fireworks, drunkenness, and canoodling, the Curiosity rover yesterday ticked over its 500th Martian day on the surface of the Red Planet.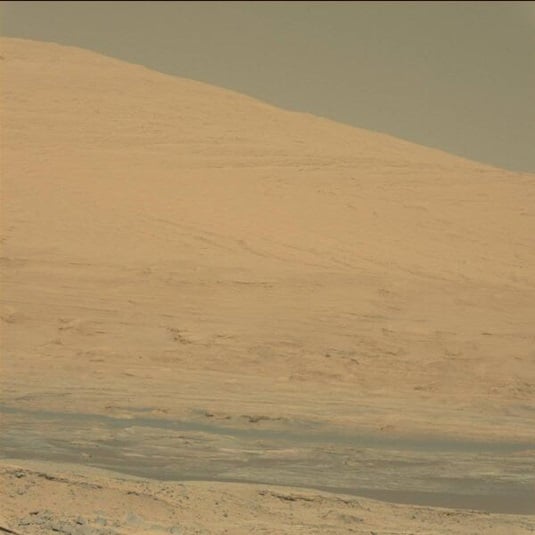 Mount Sharp, Curiosity's next target
"Goals for 2014: Finish driving to Mars' Mount Sharp & do all the science I can," said the rover's Twitter feed, along with a picture of the ancient mountain targeting for investigation by the NASA team.
A Martian day is about 40 minutes longer than Earth's, and after Curiosity landed on August 6, 2012, the control team shifted onto Mars time to ensure they got the most out of the trundling tank. As day and night on the two planets slipped further and further apart, NASA controllers returned to Earth's 24-hour cycle, giving them back a normal family-friendly life.
Within two months of arriving on the dust world, Curiosity found the remains of a dried-up river bed and took samples showing that not only was water once flowing across the Martian surface but that it could have been pure enough to support organic life similar to that found on Earth.
Actually finding organic life is another matter, however. Because Mars has a severely depleted atmosphere, the levels of radiation on the surface are inimical to life, but the NASA team think if they can access deeper levels of the Martian surface exposed via erosion then the data could be very different.
The initial estimated mission length for Curiosity is 668 Martian days, or 23 months here on Earth, but based on the rover's performance to date – and the longer-than-expected operation of NASA's other Martian hardware – Curiosity looks set to be doing science on the Red Planet for much longer than that.
The Opportunity rover, for example, will celebrate its ten-year anniversary on Mars on January 25 this year – not bad for a machine that was designed to last for just 90 revolutions of Mars, or 92 Earth days.
NASA staff told El Reg that Curiosity was built to last three times longer than its planned mission; the space agency reckons the nuclear-powered rover could stay operational even longer than that by a good margin. With any luck the rover will be trucking and zapping its way across the unforgiving regolith for at least another 500 Martian days. ®