Now THAT'S a sunroof: Solar-powered family car emerges from Ford labs
Sun-juiced motors no longer limited to experimental outback oddities
CES 2014 At the 2014 Consumer Electronics Show in Las Vegas next week, the Ford Motor Company will display what it describes as a "first-of-its-kind sun-powered concept vehicle" that can charge its batteries using only solar power.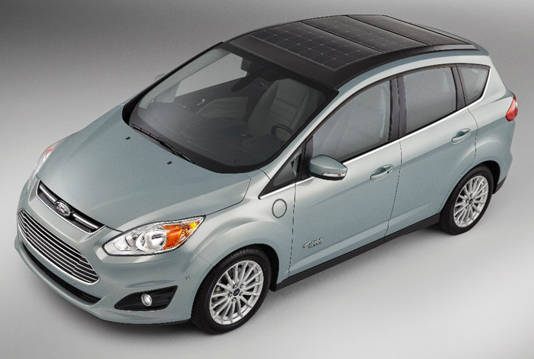 The Ford C-MAX Solar Energi Concept: photovoltaic panels grace existing 'leccy four-door hatchback
Ford announced the C-MAX Solar Energi Concept on Thursday, a vehicle with about 1.5 square meters of photovoltaic panels mounted on the roof of the company's C-MAX Energi plug-in hybrid.
The panels, provided by SunPower, provide 50 per cent more power than comparably sized photovoltaic panels from other vendors, according to SunPower module product manager Zach Campeau.
But even at that level of efficiency, the panels can only generate about 300 watts of power – not enough to fully recharge the vehicle's 7.6kWh lithium ion battery in one day, says Ford's global director of vehicle electrification and infrastructure, Mike Tinskey.
Ford C-Max Solar Energi Concept
"But if you take this vehicle and couple it with what we call a solar concentrator – just basically being a lens that can magnify the solar energy," Tinskey says, "what you end up with is a combination of vehicle plus infrastructure that can essentially recharge that C-MAX battery to 100 per cent from solar energy."
That off-vehicle concentrator was developed in conjunction with the Georgia Institute of Technology, and is essentially a canopy under which the vehicle is parked, and which uses a grid of Fresnel lenses to focus the solar energy on the panels, boosting the sun's power by about a factor of eight.
The canopy tracks the sun from east to west, focusing the sun's rays on the vehicle's roof; the C-MAX Solar Energi Concept moves underneath the canopy as the day progresses, keeping the panels in optimal position to accept the charging sunlight.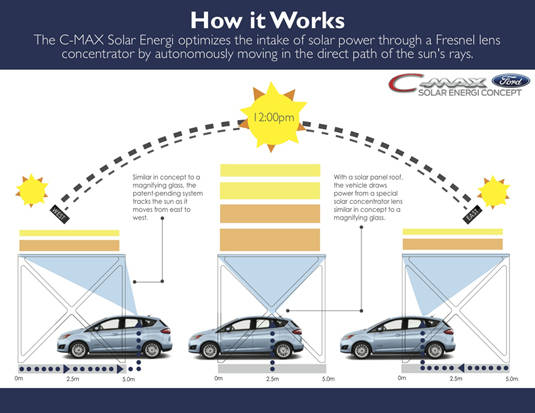 As those Liverpudlian moptops once sang, 'I'll follow the sun' (source: CleanTechnica – click to enlarge)
Fully charged, the C-MAX Solar Energi Concept will have the same range as its predecessors, the favorably reviewed C-MAX Energi plug-in hybrid: 21 miles on electricity only, and 620 miles when accompanied by its 2.0L Atkinson-Cycle hybrid gas engine.
As with other hybrid and electric vehicles, regenerative braking also adds to battery charging. You can also choose to use good ol' AC-power charging as well, which fills up the battery in 2.5 hours at 240 volts or about seven hours at standard US household juice of 120 volts.
In all-electric mode, the C-MAX Energi tops out at 85 miles per hour – a speed that should be matched by the C-MAX Solar Energi Concept – but don't expect the full 21-mile range at that clip. Range will also be limited when you use such electricity-hungry accessories as heating and air conditioning.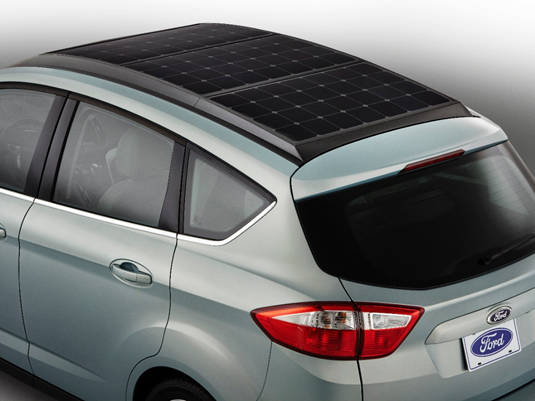 As SunPower's Campeau notes, 'It's not a lightweight car that's going to fly across the Australian outback'
Ford projects that up to 75 per cent of all trips could be powered by the C-MAX Solar Energi Concept's photovoltaics alone – a figure, of course, that would be affected by your usage model. This reporter notes that his wife owns a C-MAX Energi plug-in hybrid, which she uses to commute 16 freeway miles to her place of employment, where she recharges while at work, then commutes another 16 miles back in the evening, using no gas whatsoever.
Of course, being a reasonable driver, she never pushes her electric chariot anywhere near its 85mph upper limit, and living in the clement San Francisco Bay Area, heating and air conditioning are far from necessary.
Your mileage, as they say, may vary. ®