This article is more than 1 year old
Skype's Twitter account, blog hacked to spread anti-Microsoft messages
Hi! Microsoft here. We p0wn you, so don't use our products
Entities claiming to represent the Syrian Electronic Army (SEA) have hacked Skype's social media presences and used them to post anti-Microsoft messages.
Here's one of the defacements, from Skype's Twitter account.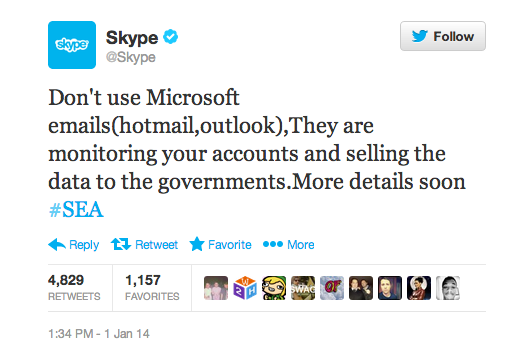 Hi! Microsoft here. Don't use our stuff. Really. Take our word for it.
Skype's blog was also accessed and quickly became host to posts calling for Skype to stop allowing the NSA to access its back end, as has recently been alleged Edward Snowden.
The fun lasted a few hours before Skype wrestled control of its social media properties back from the alleged SEA members. The VoIP service has since posted the following all-clear to Twitter.
You may have noticed our social media properties were targeted today. No user info was compromised. We're sorry for the inconvenience.

— Skype (@Skype) January 2, 2014
That the Skype blog was accessed makes the incident considerably embarrassing to Skype and therefore to Microsoft, as it shows neither is drinking strong password kool-aid. With Skype being baked into all manner of Redmondware, questions about just how it was possible for the company blog to be accessed may well be worth asking before adopting the service in-house. ®