BlackBerry sues American Idol host's company for 'blatant' patent infringement
'Mr. Seacrest, your taste in keyboards flatters us, but we need cash, not compliments'
BlackBerry has rejoined the patent-infringement litigation party, filing suit in the Northern District of California against an iPhone-keyboard company, Typo Keyboards, cofounded by "media personality" Ryan Seacrest.
"This is a blatant infringement against BlackBerry's iconic keyboard, and we will vigorously protect our intellectual property against any company that attempts to copy our unique design," BlackBerry general counsel and chief legal officer Steve Zipperstein said in a statement.
"We are flattered by the desire to graft our keyboard onto other smartphones," Zipperstein added, "but we will not tolerate such activity without fair compensation for using our intellectual property and our technological innovations."
It's perfectly understandable why BlackBerry would want to boost its "fair compensation" in any way that it can, seeing as how the past year or more has been tough on the once-dominant smartphone company. In just the past few months the telephonic Canucks have seen their market share plummet, finances crater, profits vaporize, and executives axed.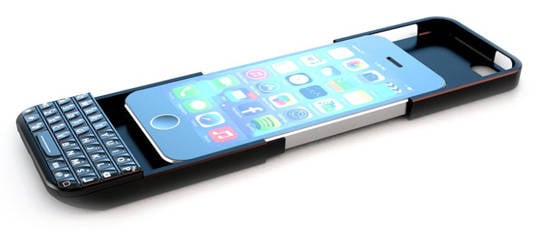 The allegedly infringing slide-on iPhone keyboard with a counterintuitive name: Typo
They've even suffered the indignity of losing pop star Alicia Keys as their "global creative director" and being embarrassed by an admittedly risible study that branded their users as the dimmest bulbs on the smartphone chandelier.
And now they're hoping to get a few licensing bucks out of a company founded by a radio-show personality, host of American Top 40 and American Idol, and part-time philanthropist, the uncommonly tanned Ryan Seacrest.
We will bow to the wisdom of the courts as to whether BlackBerry's assertion that Seacrest & Co.'s Bluetooth-communicating, slip-on Typo keyboard for the iPhone 5 and 5s does, indeed, infringe upon one or more of their patents. We do, however, hope – for the sake of BlackBerry's remaining adherents – that the beleaguered Canadians' legal fees come in far below those of Apple's in its Samsung patent entanglement, which totalled over $60m.
BlackBerry may still have $3.2bn in cash and investments, according to its most recent financial results, but until interim CEO and turnaround artist John Chen can extricate it from its current "challenging circumstances," it'll need every penny. ®