This article is more than 1 year old
Bluetooth 4 BLING: Fashion, not tech, will sell those wearables – wireless chip maker
With this ring, I thee web
CES 2014 British Bluetooth chip and systems maker CSR is turning its back on sceptical techies in the hope of winning the fashion world's support for its wearable computing hardware.
Having asked ordinary punters about their attitudes to wearable computing, CSR says it found that few of them care much about the technology. "What does it usefully do?" they ask, inevitably followed by, "Will it make my bum look big?"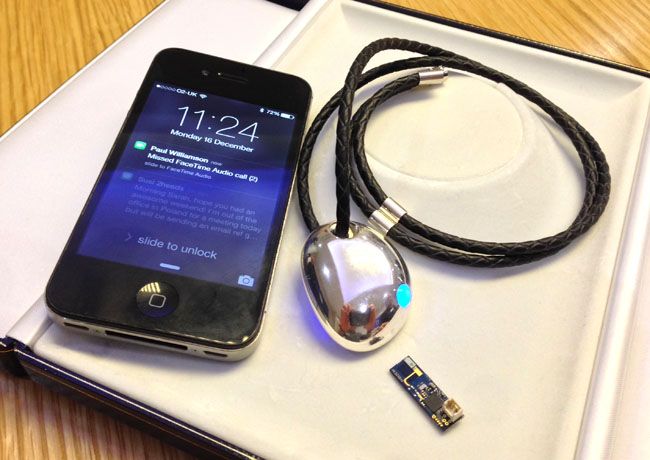 CSR's missed-a-call alert jewellery
Happy to oblige, CSR has come up with a pair of silvery danglers to demonstrate what artisanal jewellers and hardware hackers might together come up with for such an audience.
CSR presented the two trinkets at the Consumer Electronics Show (CES) in Las Vegas this week: a necklace with an on-board light the colour of which you can change at will with the inevitable accompanying app, and a phone status pendant that vibrates and flashes a coloured LED to tell you when you've had a call.
Essentially then, the same functionality as a smartwatch, but in a a more feminine form-factor.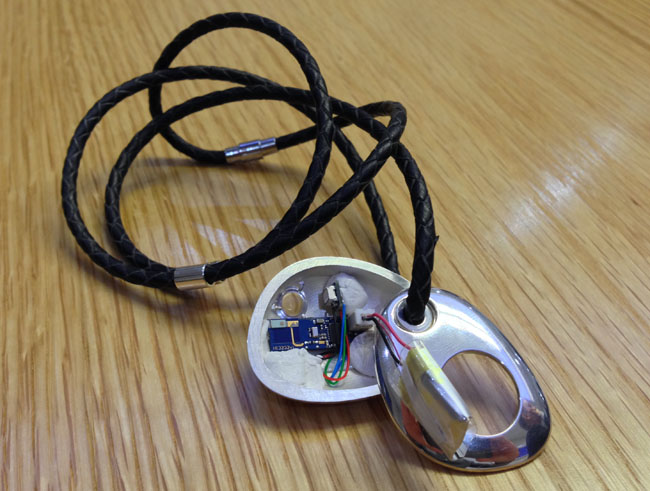 Brooch birth
Not that CSR will be making this kind of thing itself whoever might fancy draping such a device over their decolletage. Instead it hopes to inspire more firms to branch out into the wearables business... and buy lots of tiny Bluetooth Smart circuit boards and chips from CSR.
The Cambridge-based firm is also hoping to excite purveyors of audio kit with its new Vibe systems: VibeHub and VibePlayer, also introduced at CES. Hub and Player provide communications sub-systems for, respectively, nodes and end-of-branch devices that use a standard Wi-Fi home network for multi-room wireless audio.
A VibeHub can pull in content from Bluetooth-connected devices such as smartphones and tablets, or grab it from online streamers like Spotify and from network-connected source like DLNA servers and AirPlay hosts. You might find CSR's VibeHub unit in connected hi-fi, for instance.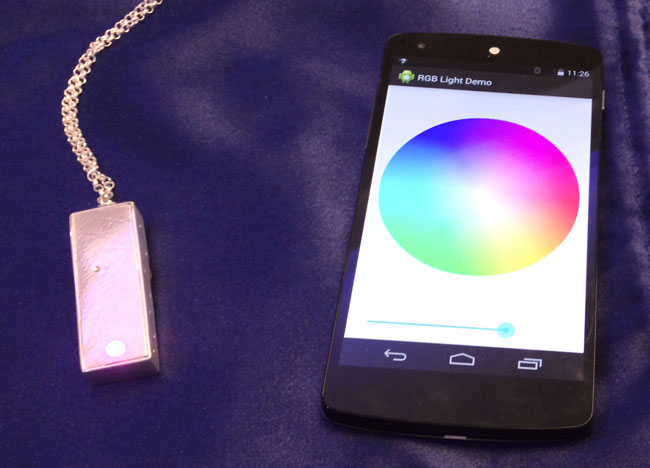 Mood ring de nos jours
The VibePlayer hardware is designed to go into anything from less sophisticated connected hi-fi units through classic Bluetooth speakers to Bluetooth headphones. It allows content to be pushed over from one or more VibeHubs, and permits direct Bluetooth connections.
Unlike regular Bluetooth-connected audio output devices VibeHubs and VibePlayers will feature what CSR has dubbed its SyncLock technology, which synchronises audio output in different rooms so the same song being streamed to, say, living room and kitchen comes out of the speakers on both rooms in perfect harmony.
CSR isn't saying who might be building kit incorporating its Vibe systems, but staff did suggest such products might appear during the first half of the year. But look for the SyncLock sticker on the box, not a Vibe decal, they added.
The company's pitch to OEMs is not only its Bluetooth expertise - it developed the popular Apt-X codec, for instance - but that its kit, unlike very similar stuff from rival firms, most notably Sonos, operates with standard wireless infrastructure and can be vendor-agnostic.
Buy a SyncLock gadget from A and there's not reason why you won't be able to expand the system with a SyncLock product from vendor B... unless either vendor chooses to prevent this, something CSR has admitted its SDK allows.
The software kit does include foundation code for Android and iOS to allow vendors to create multi-room audio management apps. ®