CES 2014 Nvidia has unveiled two versions of a new Tegra mobile processor aimed at both radically improving graphics performance of mobile gaming and putting "a supercomputer in your car," in the words of company co-founder and CEO Jen-Hsun Huang.
The new chip, dubbed the Tegra K1, has "the heart of GeForce and the soul of Tesla," Huang told his audience at at CES press conference on Sunday evening, referring to Nvidia's PC-graphics and supercomputing products.
Huang called the "impossibly advanced" Tegra K1 a "192-core" processor, saying that merely moving up to eight cores from the four-core Tegra 3 would be "pretty pedestrian." To be precise, the K1 will contain 192 CUDA cores based upon the company's Kepler architecture, arranged in a 12-by-16 grid. Apparently the 32-bit version's additional four ARM Cortex-A15 compute cores are chopped liver.
A second version of the K1 will have two 64-bit ARMv8-architecture "Denver" compute cores, a technology that Nvidia first announced it was working on back at CES in 2011, and which they now modestly dub the "Super Core CPU."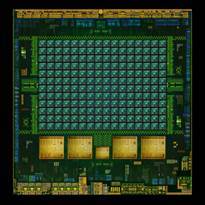 192 Kepler CUDA graphics cores plus
four ARM Cortex-A15 compute cores
The 32-bit version, with a TDP of 5 watts, is scheduled to appear in devices in the first half of this year, and the 64-bit part will appear in the second half of the year. Both versions will be pin-to-pin compatible; the 32-bit version will run at up to 2.3GHz and its 64-bit big brother will speed along at up to 2.5GHz.
Both parts will support DirectX 11, OpenGL 4.4, and tessellation, and if the demos that Huang showed during his presentation – demos, mind you – are any indication, their graphics capabilities are indeed impressive. He also revealed that Epic Games will bring the next iteration of its Unreal gaming engine to the Tegra K1.
In addition to touting the Tegra K1's gaming graphics chops, Huang also emphasized its applicability in the automotive future, in which "your cars are going to be able to do things that most people won't be able to understand."
Specifically, he said that the K1 will "bring supercomputing into your car," in that it will be what he claimed would be not only the first programmable platform for advanced driver assistance (ADAS), but also provide the graphics capabilities needed to customize dashboard displays. ®
Bootnote
Huang also revealed that the 310-foot (94.5m) diameter "crop circle" in the tiny town of Chualar, California, that has been titillating the interwebs since late December was merely an Nvidia marketing gimmick. He also complimented the news reporter who pointed out that patterns in its center were Braille for 192 – the number of Kepler cores in the Tegra K1.