CES 2014 Networking gear maker Linksys has resurrected one of its most popular, customizable routers – the WRT54G – with a new version that takes advantage of the latest wireless technologies.
The Belkin subsidiary revealed the new device, a spruced-up Wi-Fi router based on its venerable WRT54G design, at the Consumer Electronics Show (CES) in Las Vegas on Monday.
The new version, dubbed the WRT1900AC, will be powered by a 1.2GHz dual-core ARM-compatible processor with 128MB of flash memory and 256MB of DDR3 RAM. It will also support dual-band 802.11ac wireless networking at speeds of up to 1.3Gbps, in addition to all previous 802.11 protocols, we're told.
The router will ship with four removable antennae rather than the customary three, which should improve signal reception and maximize bandwidth and reliability. It will also be the first router to include Linksys's new Network Map feature, which displays a visual representation of the local network and the devices attached to it.
While that's all well and good, however, doubtless the most attractive feature of the WRT1900AC is that it follows in the eminently hackable tradition of the original WRT54G.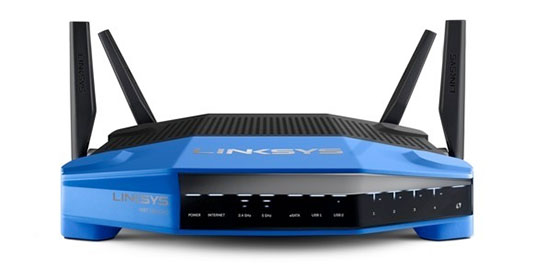 Back in black and blue: Linksys's WRT1900AC router supports 802.11ac Wi-Fi and open source firmwares
That device, which was built around the open-source Linux kernel, was embraced by tinkerers who developed numerous alternative firmware images for it, including OpenWRT, DD-WRT, and Tomato.
Linksys says that not only does it approve of such projects for the WRT1900AC, but it has been actively working with the OpenWRT community to ensure that an open-source firmware for the new router will be available for download once it ships.
"We have brought back the WRT because our customers have asked for a router that had the reliability, functionality and open-source capabilities but with today's AC wireless technology," Linksys VP Mike Chen said in a canned statement. "The WRT1900AC is the result of all these requests."
Linksys did not give a firm shipping date for the new device, saying only that it would be available in the spring for a suggested list price of $299.99. ®
Similar topics