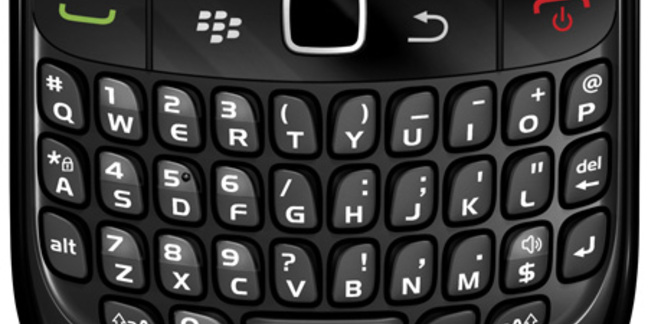 CES 2014 According to BlackBerry interim CEO John Chen*, the hardscrabble smartphone maker's next wave of products will return to tried-and-true form factors, complete with the company's hallmark hardware keyboards.
BlackBerry launched its all-touchscreen Z10 handset to much fanfare under previous CEO Thorsten Heins last January. But that device became a notorious bomb, with consumers seeing little to lure them away from similarly keyboardless Android offerings.
Now Chen says that although there are still a few touchscreen products in BlackBerry's pipeline, the Canadian firm's future offerings will mostly come equipped with physical keyboards.
In an interview with Bloomberg TV at the Consumer Electronics Show (CES) in Las Vegas this week, Chen said that the QWERTY keyboard "is extremely important to BlackBerry."
"I personally love the keyboards," Chen said, "so you will look to BlackBerry going forward doing keyboards, I wouldn't use the word 'exclusively,' but predominantly."
BlackBerry has become so enamored of keyboard-equipped devices, in fact, that it has lately taken to suing companies whose products resemble the traditional BlackBerry stylings. Last Friday it fired off a lawsuit against Typo Keyboards, a company that markets a BlackBerry-like add-on input device for iPhones, claiming it was a "blatant infringement" of its designs.
When asked about the suit, Chen declined to comment about it specifically, but hinted that we might see more such legal wrangling from the Canadians in future.
"BlackBerry has 44,000 patents," Chen said. "I think it's important that we gain some business benefits through our ownership of those patents and our ownership of [intellectual property]."
BlackBerry has yet to announce when its next smartphones will appear, but during a roundtable discussion at CES on Tuesday, Chen said at least two are in the works, both to be built by the company's new manufacturing partner, the Apple-beloved Taiwanese firm Foxconn.
One will be a high-end device with a keyboard, Chen said. But before that one arrives, BlackBerry plans to ship a more modest device designed for emerging markets, with a price tag of around $200 – and this model will disappoint hardcore thumb-typists.
"I think there were enough leaks in the market that the first one is a touchscreen, so I'm not going to deny it," Chen said. ®
Blacknote
* Although BlackBerry describes Chen as "interim" CEO as of November last year, he told CES 2014 this week that he has dropped the qualifier, stopped the search for a new chief exec, and vowed will stay on to see out the mobe maker's recovery over the next 18 months. Which kinda sounds interim to us, but what do we know?
Sponsored: Webcast: Discover and secure all of your attack surface