CES 2014 CES wouldn't be CES without thumbdrive nonsense and it doesn't disappoint this year, with one device modelled after a rocking toy and another whose USB stick has no cap for you to lose.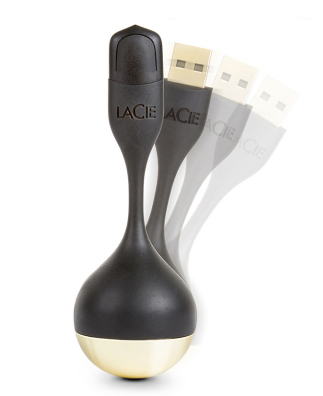 LaCie Culbuto
The flash drive fussiness from French company LaCie comes in the form of Culbuto, named after a traditional French toy (a figurine with a weighted base in its rounded bottom which rocks around on its base when you push it).
LaCie burbles: "The LaCie Culbuto... has a spherical solid metal base topped with a silicone rubber stem that ends with a USB 3.0 connector. On its top, a cap that closes off the LaCie Culbuto features a slit to hold a photo or business card. Design-conscious consumers will appreciate both the speed benefits of USB 3.0 and the key's additional purpose as a whimsical picture holder when not in use.
"Moulded from a cast, the LaCie Culbuto's 'soft touch' rubber gives a pleasant feeling to the fingers..."
If you are into "repeated and infinite oscillation" with a pleasant feeling of soft touch rubber on your fingertips then this is the, um, thumb drive* of your dreams. Here it is plugged into a notebook computer: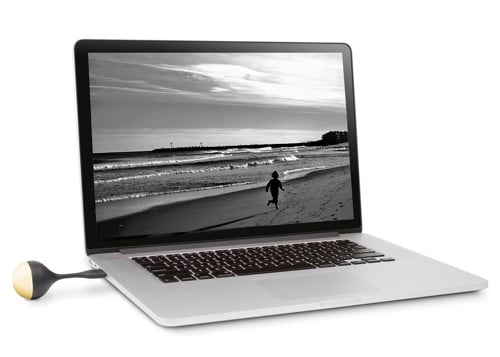 Culbuto plugged into notebook. Is this on a single flat surface?
The drive's available in 16GB and 32GB capacities through the LaCie Online Store and resellers starting at £44.99 for 16GB and £64.99 for 32GB.
But that's not all. There's also:
Imation's 2-in-1 Micro USB flash drive, which is designed for Android devices using either a USB or micro USB port and provides expanded storage capacity for the host devices. It has "a rugged swivel-and-slide capless design," and 16GB, 32GB, and 64GB capacity points. It costs $29.99 (MSRP) for a 16GB model and $64.99 for a 64GB one and should be available later this quarter in the United States. Who knows when Blighty gets one

Imation 2-in-1 Micro USB Flash Drive

SanDisk 64GB Connect Wireless Flash Drive

From whimsical to straightforward to, sorry SanDisk, boring-looking with the SanDisk 64GB Connect Wireless Flash Drive, intended to increase mobile device storage capacity. Basically it's a capacity upgrade to an existing product line. SanDisk says it has been "continuously updating the software to improve performance and accessibility of the drive while keeping a cellular data connection."

Updates include:

A web app that enables wireless access from PCs and Mac computers, and Windows 8 based tablets,
Playing back of movies purchased on iTunes.
This flash drive gizmo costs $99.99 in the US from Amazon, B & H and SanDisk. It should be available in Europe in a few weeks. ®
* You can actually get USB vibrators, which use the USB port for recharging their battery.