This could be the ultimate in "wearable computing": while CES visitors are excited about Intel's earbuds, Swiss scientists have created a circuit so flexible it can wrap around a human hair.
The first test of the circuit, created by researchers at the Swiss Federal Institute of Technology in Zurich (ETZ), was to embed it into a contact lens. This allows monitoring of the fluid pressure in the eye, as a way to monitor an eye for signs of glacucoma.
The researchers have published their work in Nature Communications (abstract here). "We propose a wafer-scale process scheme to realize ultra flexible, lightweight and transparent electronics on top of a 1-μm thick parylene film that is released from the carrier substrate after the dissolution in water of a polyvinyl–alcohol layer", the researchers write.
According to their news release, the a hard base is used for the fabrication of the circuit, separated from the base by polyvinyl layers.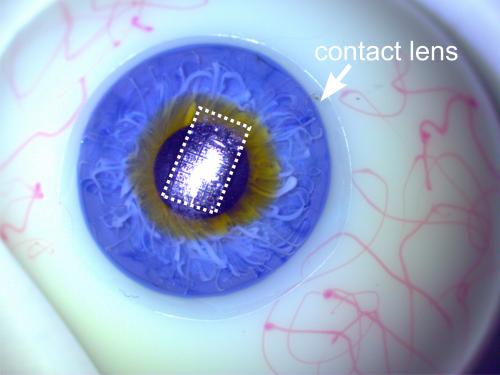 ETZ's flexible circuit on an artificial eye.
Image: Giovanni Salvatore, ETZ
These dissolve in water, allowing the base to separate without damaging the circuit.
What's left is just the circuit itself, and the flexible parylene film that holds it together. ®