CES 2014 As the tech world revels in its orgy of big screens, baffling gadgets and marketing hype that is the annual Consumer Electronics Show (CES) in Las Vegas, analysts predict further decline in the, er, consumer electronics market.
Market research firm IHS forecasts that worldwide manufacturing revenues in the consumer electronics (CE) market will drop about two per cent from $255.7bn in 2013 to $250bn this year, as vendors struggle to bring new devices to shop shelves on time and as promised. The fall follows an ongoing slump in the sector: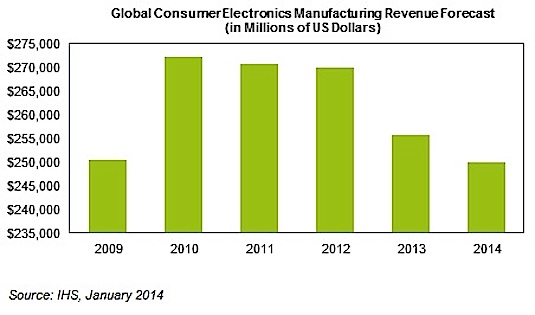 "While exciting new technologies such as ultra-high-definition [televisions] and wearable devices are being shown at CES, it will take a few years until these products attain enough of a volume to drive the growth of the overall CE market," said IHS consumer devices senior principal analyst Jordan Selburn.
"Until these products enter the mainstream, traditional CE revenue will continue to dwindle."
Massive TV sets and wearable devices dominated headlines at this year's show. Intel made the wearable market a major focus of its opening keynote at the show, while a public meltdown from Hollywood director Michael Bay wasn't enough to stop Samsung from stealing the show with its 105in curved screen ultra-high-definition (UHD) telly set.
While already established products such as LCD TV sets are set to see a 500 percent jump in shipments this year, the high-end UHD sets will likely not be making a mark in the retail space for some years, we're told.
Meanwhile, IHS believes that the traditional CE category of devices will see increased competition from tablet and mobile handset devices, which are taking eyeballs and fingers away from home entertainment and similar consumer electronics hardware.
The analysts also predict that while the CE market will be slow this year, many of the UHD lines showcased in Las Vegas will claim as much as 16 per cent of the LCD market by 2018. Over that same time, demand for wearable devices will grow from 51.2 million units shipped to 130.7 million units annually, IHS reckons. ®