This article is more than 1 year old
New snaps show dazzling young galaxies furiously spawning stars - 13 BILLION years ago
Luminous beauties found in Hubble's deepest ever pic of galaxy cluster
The Hubble Space Telescope has captured the deepest image ever made of any cluster of galaxies, spying some of the youngest galaxies ever detected in space, including four bright young things as they appeared 13 billion years ago.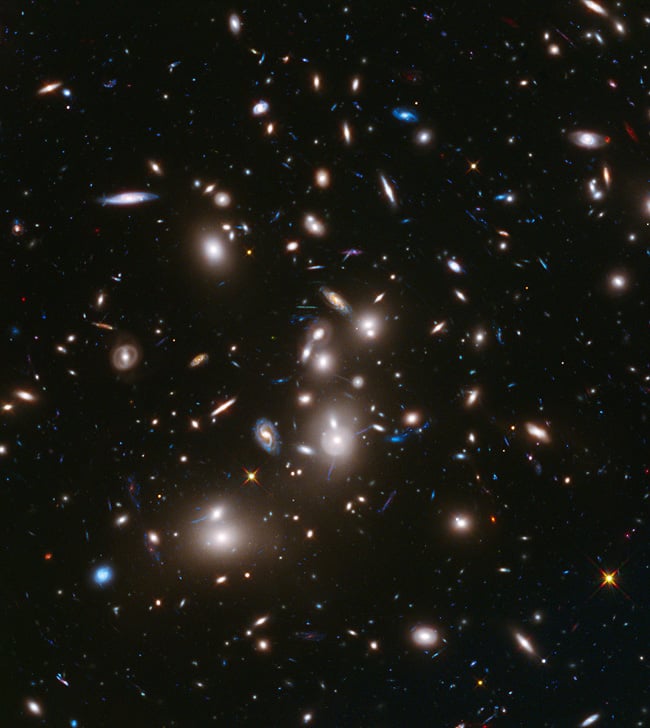 The ultra-bright young things were discovered in data from both Hubble and NASA's Spitzer 'scope and all four are rapidly forming stars, which is why they're shining so brilliantly. The brightest of the galaxies is making stars around 50 times faster than the Milky Way does today, despite the fact that the infant clusters are only a twentieth of the size.
Hubble has seen galaxies this young before, but none with objects that are 10 to 20 times more luminous than anything ever seen before.
"These just stuck out like a sore thumb because they are far brighter than we anticipated," explained Garth Illingworth of the University of California. "There are strange things happening regardless of what these sources are. We're suddenly seeing luminous, massive galaxies quickly build up at such an early time. This was quite unexpected."
Hubble was the telescope that first found the distant galaxies and its data allowed astroboffins to measure star-formation rates and sizes. Spitzer's information then allowed the astronomers to estimate stellar masses by measuring the total luminosity of the galaxies.
The snapshot comes from a Hubble project known as The Frontier Fields, which is the longest and deepest exposure to date of a cluster of galaxies that has imaged some of the faintest and youngest galaxies ever seen.
The galaxies are normally too faint to see, but Hubble was able to find them through gravitational lensing by focusing on a massive galaxy cluster called Abell 1689 in the constellation Ursa Major.
"Though these galaxies are very faint, their increased numbers mean that they account for the majority of star formation during this epoch," said team member Anahita Alavi, also of the University of California.
Abell 1689 revealed another massive galaxy cluster, Abell 2744 in the constellation Sculptor at the front of the image. Its immense gravity is being used as a lens to brighten and magnify the images of even more distant background galaxies.
The most distant of the stars appear as they did not long after the Big Bang and NASA hopes that the James Webb Space Telescope, currently in development, will be able to look even further back in time to how the Universe appeared only a few hundred million years after it was born.
Hubble's findings were described in a news conference sponsored by the American Astronomical Society (AAS). ®