This article is more than 1 year old
iOS motion control iRing here at last ... but it's NOT made by Apple
Waving, not clowning, with proximity sensing and SDK for all
CES 2014 In 2013, the rumour mill churned out the possibility of the Apple iRing motion controller and 2014 sees this become a reality. However, the iRing isn't made by Apple but by IK Multimedia, a music technology firm that has an enduring love affair with iOS.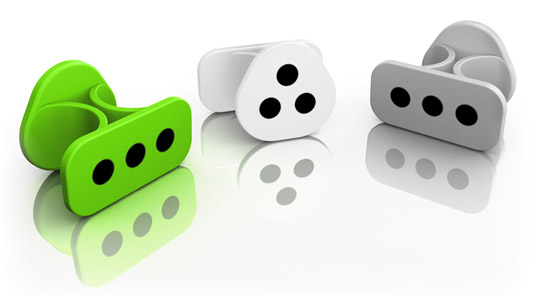 As far as styling goes, IK's iRing looks more like something that fell out of a Christmas cracker
You get two motion tracking controllers – one for each hand – and they're not really rings either as they fit between the fingers. These controllers are doubled-sided too, with a triangular cluster of three engraved dots on one face and three in a row on the reverse.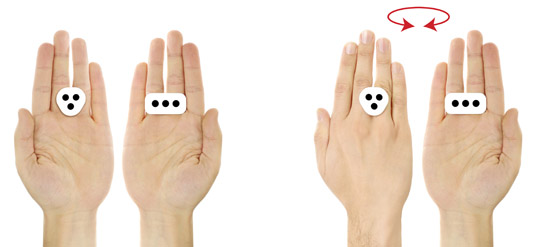 Come on everybody let's do the local motion...
They work by relying on the iPhone or iPad camera to detect movement and the dot patterns not only enable two separate controllers to be applied simultaneously, but enable precise tracking of location thanks to some clever volumetric positioning algorithms within the iRing FX/Control app. This allows more than just lateral X,Y movements of up/down, left/right to be tracked but the Z co-ordinates for proximity too. Hence, the pair can control six parameters, three from each iRing face.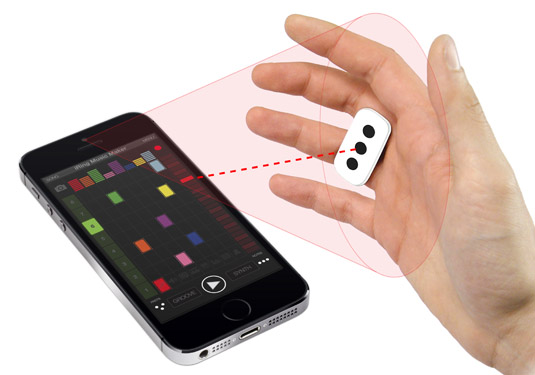 The iPhone (or iPad) camera tracks the iRing position
IK Multimedia is showcasing the iRing as MIDI controller and has an SDK available with a free licensing program to encourage development in other sectors, such as gaming, fitness and household controls. Indeed, at CES, alongside music making applications, the company has been showing off its potential as a gaming controller running Pong on a iPad.
For musicians though, the iRing FX/Control app features its own audio effects processor with a palette of 16 to choose from including with stalwart studio treatments such as Delay, Phaser, Flanger, Compression, Fuzz, Reverb, AutoWah along with some more bizarre options dreamed up for motion control.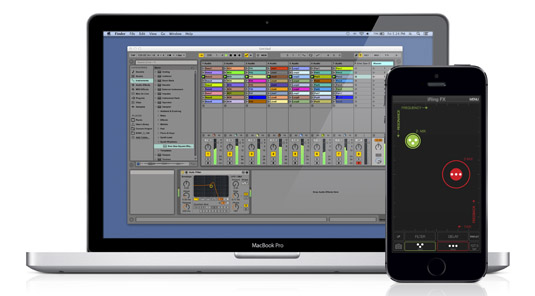 The iRing FX/Controller app can relay MIDI messages to a host computer over Wi-Fi
The Control side of the app can channel your iRing movements to Audiobus or Inter-App Audio compatible software and can even be routed to a host computer using Wi-Fi. So what would you do with it? Musically, IK Multimedia gives a few examples such as DJs bringing beats, cross-fading between tracks, changing tempo and triggering sounds.
As for studio sessions or live performance, the iRing can offer a lot more than Theremins of old and no doubt vocalists could weave hand movements into their act, controlling echo time with a sideswipe, the repeats by raising the hand and the wet/dry signal mix with forward and backward gestures. And the chances are the other hand would be controlling the IK VocaLive app's auto-tuning functions – just in case hitting the high notes risks becoming a low point in the show.
Having access to MIDI control offers a lot more than just effects tweaks though, and if you need to catch up on the last 30 years of the Musical Instrument Digital Interface, you can read all about its creative functions here and here.
IK Multimedia's iRing will be available in Q1 2014 and will cost around £20. ®