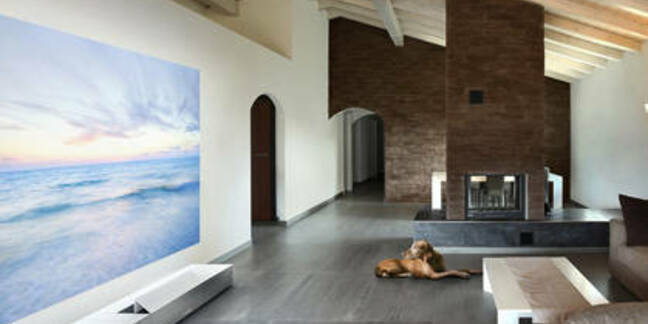 CES 2014 Certain products exist to burnish a company's image rather than fatten its bottom line, and Sony's new 4K Ultra Short Throw Projector, able to project ultra-high definition video images of up to 147 inches on any wall, is a shining example.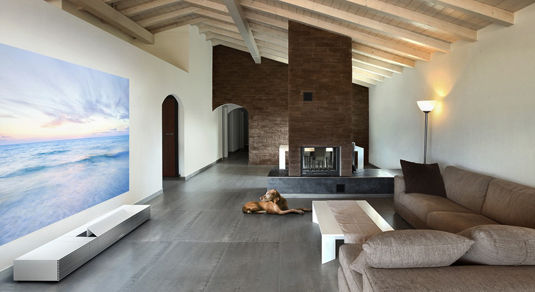 Entrapped in stultifying minimalism, Fido dreams of the great outdoors
"This new vision creates a brand-new sensorial and atmospheric experience that utilizes space, space itself," intoned Sony president and CEO Kazuo Hirai when introducing the extreme kit during his Tuesday keynote at CES in Las Vegas.
The projector, "featuring a stylish, furniture-like design" according to a company blog post, is designed to be placed next to any wall – a low-rise 21st century sideboard, if you will – onto which it will project images of up to 4096-by-2160 pixels.
Hirai was in raptures over the projector's ability not only to project video, but also to provide a virtual window onto a real or imagined world. "I've seen this awe-inspiring, wow-inspiring product in action," he said. "The other day as I stood in my office on the 20th floor in Sony headquarters in Tokyo and I looked at a wall, a perfect window formed revealing a view of a street scene in the Ginza."

You can have the 4K Ultra Short Throw Projector in any color you want, as long as it's white (click to enlarge)
Of course, you can also use the 4K Ultra Short Throw Projector for more mundane tasks such as watching TV or playing video games, but Hirai has more expansive thoughts. "Imagine being an avid surfer," he said, "and having a perfect wall-sized window of the sea, the world's best surf spots, vividly, in real time, in your living room."
And how much will it cost to plop this 2,000 lumen, laser diode–illuminated, window-on-the-world credenza into your living room when it becomes available in the US this summer? Sony doesn't yet know, saying only that the price will be "approximately $30,000 to $40,000".
The price, after all, is well-nigh irrelevant once the bill of materials' cost is taken care of. The 4K Ultra Short Throw Projector doesn't exist to bring in a hefty profit, but rather to demonstrate that Hirai's Sony – he became president and CEO in April 2012 after the lackluster years of Sir Howard Stringer – has got its mojo back.
"No more commodity products," he promised. "No more parity products. No more 'just good enough' products. We must – and we can – do better." ®
Sponsored: Ransomware has gone nuclear