This article is more than 1 year old
US Navy trials GIANT ROBOTIC SPYBIRD for coastal patrols
MQ-4C's 40m wingspan rivals commercial airliners
The US Navy has completed early test flights on a drone aircraft which sports a wingspan of more than 130 feet (39.9m).
Northrop Grumman said that its MQ-4C Triton aircraft has passed a series of nine test runs with the Navy. The trials are designed to test the craft's endurance and manoeuvrability under normal flight conditions.
The MQ-4C, which was designed for military surveillance and reconnaissance activities, will be deployed by the Navy to patrol vast areas of sea and coastal regions. With a 39.9m (130.9ft) wingspan, the massive MQ-4C bests both the Boeing 757 and Airbus A320 commercial airliners.
In the tests, the unmanned craft were able to fly for 9.4 hours continuously and reach altitudes of up to 50,000 feet. The aircraft also passed manoeuvrability tests designed to check its ability to recover from air turbulence.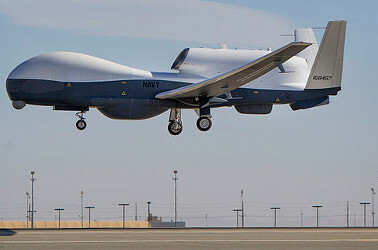 The Triton unmanned aircraft system completes its first flight on 22 May, 2013. US Navy photo courtesy of Northrop Grumman/Photo by Alex Evers
The company said that the nine tests mark the halfway point in the testing phase of the MQ-4C prototypes, which kicked off its first test flight in May of last year. Future tests for the unmanned units will install and check the in-flight performance for sensor hardware.
Should the tests prove successful, the Navy plans to eventually order and deploy some 68 Triton drone aircraft in its fleet to help monitor seas. The craft has reportedly been slated for deployment some time in 2017.
The MQ-4C is among an upcoming generation of startlingly capable drone aircraft being developed and tested by militaries around the world. Once reserved for small craft capable of light duties, the drone designation has now expanded to fully functional military aircraft – including unmanned spy planes capable of reaching speeds up to mach-6.
The US Navy, for its part, has been testing unmanned units which include the capability to launch from submarines. ®