No sign of Half-Life 3 but how about FOURTEEN Steam Machine makers?
If you fancy a $6,000 Linux-powered games console, insert coin
---
CES 2014 Valve has used the annual Consumer Electronics Show (CES) in Las Vegas to reveal more than a dozen hardware partners that have signed on to build gaming consoles based on its SteamOS gaming platform.
The companies that will market the first generation of Steam Machines include Alienware, Alternate, CyberPowerPC, Digital Storm, Falcon Northwest, GigaByte, iBuyPower, Maingear, Materiel.net, Next Spa, Origin PC, Scan, Webhallen, and Zotac.
The devices they have designed will arrive in a variety of form factors and configurations, ranging from compact cubes to tricked-out towers bedizened with bling.
"With over 3,000 games and more than 65 million gamers on Steam, it's important to offer gamers a variety of Steam Machines that allow them to select what makes the most sense for them," Valve CEO Gabe Newell said in a canned statement.
The machines will sell at a wide range of price points, too. On the low end, a console from CyberPowerPC featuring an AMD CPU and graphics, 8GB of RAM, and 500GB of storage is expected to retail for around $499. A deluxe custom rig from Falcon Northwest that's stuffed with 16GB of RAM and 6TB of disk space, on the other hand, could set you back as much as $6,000.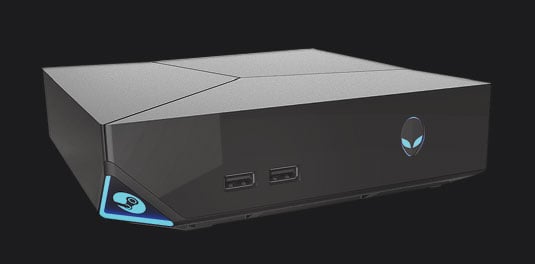 This attractive-looking model from Alienware is just one of at least 14 Steam Machines to debut this year
Because SteamOS is an open, Linux-powered platform and Steam Machines are essentially PCs, the devices will ship with various processors, motherboards, and graphics chips. Valve itself has built prototype Steam Machines with a variety of hardware.
You can see a complete breakdown of the first wave of Steam Machines and their expected configurations in Valve's CES 2014 press brochure, available here [PDF].
It was not immediately clear which of the first-generation consoles will bundle Valve's ambitious custom-designed gaming controller, if any. In a rare press conference appearance on Monday, Newell said that Valve – which made its name with the Half-Life series – will sell its controller separately, but that hardware makers are also free to design their own controllers for their Steam Machines.
What all of the devices will share in common is they all should be able to download and play any of the roughly 250 SteamOS-compatible games now available in Valve's online store.
Asked how Valve plans to compete with the likes of Microsoft's new Xbox One, Newell observed that while Redmond claims to have sold 3 million Xbox One units since the console's launch, Steam has 65 million users. He added that with the holidays now behind it, Valve has seen 62 per cent year-on-year revenue growth.
What Valve and its hardware partners couldn't say, however, was just when the first wave of Steam Machines will reach the market. "Rather than talking to me, go talk to the hardware manufacturers," Newell said. But beyond assuring us that the devices will ship "later this year," details remain scant. ®
Similar topics
Narrower topics