This article is more than 1 year old
No more syncing feeling with file portability service Younity
Provided you're not using Android, in which case hard luck
Younity bills itself as syncless file sharing software spread across all your Apple and Windows devices. What's this private cloud-style offering all about?
It is provided by Entangled Media, whose co-founders are Erik Caso and Mike Abraham. The younity website says: "younity is about being able to spontaneously access any file you have at any time, without planning ahead."
Younity agent software is installed on all the devices you wish to have in a single file access domain. It indexes the files on all your iOS, Mac OS and Windows devices and stores the resulting metadata on your iPad and iPhone.
From there the files in what's effectively a personal cloud can be searched, accessed and shared with friends via younity or Facebook. Such files are streamed from your devices to the friend's device and expire after a seven days.
Files are not stored in any special folders or a public cloud and are not synchronised across devices. But younity's software does load metadata about them onto an iPhone and/or iPad, according to their marketing blurb: "When you first open younity on your phone, after having registered at least one computer, younity will download metadata about your files.
The speed at which it does this depends on your mobile hardware (i.e. newer mobile devices are much faster than older devices) and the number of files you have. For example, 30,000 files worth of metadata going to an iPhone 4S will take about four minutes, but an iPhone 5 will take about three minutes. If you have over 100,000 files (only photos, videos, music and documents), it may take a very long time. We are always working to make this faster and will continue to improve performance over time."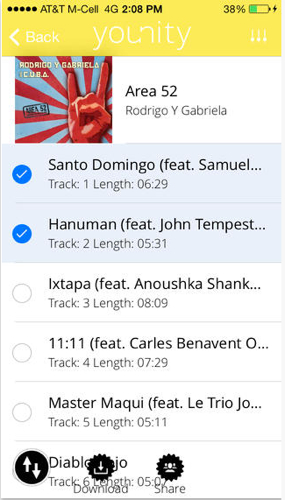 younity iPhone screenshot.
Only documents, photos, videos and music files are scanned by the younity agent software. Other filetypes are ignored. However younity, we're told, does "convert file types that are normally unusable or inaccessible on mobile so that it plays nice with iOS."
Supported operating systems are:
Windows XP, Vista, 7 and 8,
Mac OS X 10.6, 10.7 and 10.8,
Apple iOS 6 and above.
Over time younity will probably be developed to link with online backup and collaboration services and products. We imagine Android must be a potential additional operating system younity could support. The Windows Phone might be another potential target. How younity makes money in the future is an issue to think about, with advertising and/or paid-for services obvious options.
El Reg storage desk hasn't tried the software yet, not having a streaming file need.
Read about younity's background in a Forbes article. There's also a younity FAQ you can read to find out more about the service.
You can download the free iOS younity app from the iTunes App Store - not the general Apple app store - we couldn't find it there. The free Windows and Mac OS X younity software is available on its website. ®