This article is more than 1 year old
Spock-style gadget can SMELL my PEE! Weird gizmos of CES 2014
The urine analysis device may come signed by Leonard Nimoy. Seriously
Smartwatches

With no Apple iWatch launch to divert attention, established smartwatch player Pebble could launch its new design, Steel, without fear of being sidelined. Steel marks the company's attempt to break out of the nerd ghetto and enter the mainstream. It's a metal cased watch design to be attractive rather than practical, though it's no less water resistent and functional than the current, plastic-cased Pebble. No more functional, either, unless you count its LED battery charge and alert type indicator.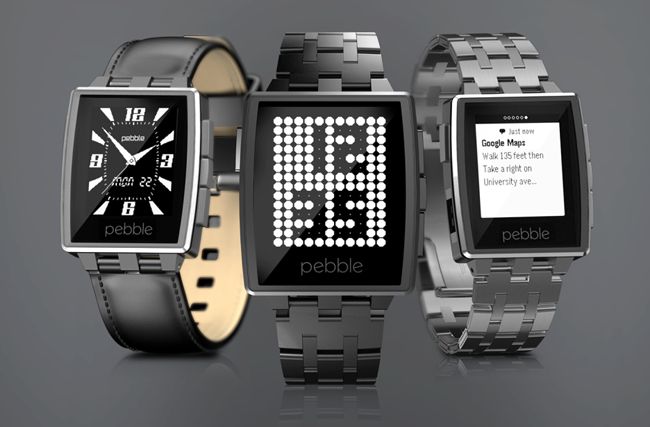 Pebble's Steel: with Sapphire glass? No, it's Gorilla
Steel shows Pebble willing to grasp a key smartwatch nettle: people buy watches more for looks and perceived quality than for functionality. The problem is, no matter how useful you think a watch might be, you're not going to buy one you think is ugly. That hasn't been an issue for smartwatches so far; the current audience buys for functionality first. But it's going to become more of a problem as vendors seek to draw in non-techie buyers.
Steel is a good step forward, though it's not a design I find attractive. Martian Watches' new model, Notifier, is. It drops previous Martians' faux-fancy square design and cramped, half-height analogue watch face for a round, full-face watch into which the company's trademark single-line OLED readout has been placed. It also retains the ability to integrate with a host phone's voice control.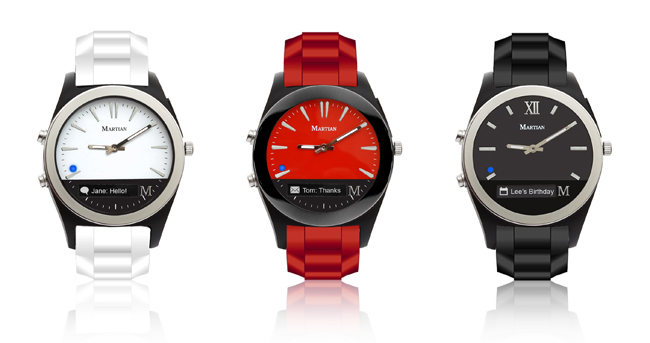 Notifier
Steel ships at the end of this month - supply is limited, Pebble warns - for $249 and comes with both metal and leather straps. Notifier will cost $129 when it ships in Q2.
Give me Steam

Valve Software chief Gabe Newell's slow-burn launch of the company's Steam platform as the next big thing in living room gaming fizzed and sparked its long black trail a little closer to the stacked barrels of gunpowder with the announcement that 12 more vendors have lined up to make and sell Steam Machine PCs... er... consoles. We already knew about iBuyPower, which leaked its own offering last year, but it has now been joined by Alternate, CyberpowerPC, DigitalStorm, Falcon Northwest, Gigabyte, Materiel.net, Next, Origin, Scan, Webhallen and Zotac. But the biggest name on the list is Dell subsidiary Alienware.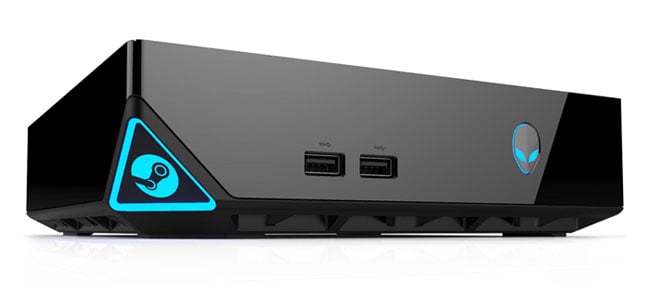 Some Steam Machines, such as Alienware's, look like consoles...
These are all custom gaming PC makers - the very folk who already make desktop and laptop systems for Steam fans to run their games on. That means they know what PC gamers want and how to design kit that will excite them, but it also means they'll be selling Steam Machine to the very customers who'd be buying high-end gaming PCs anyway. Where's the market expansion in that?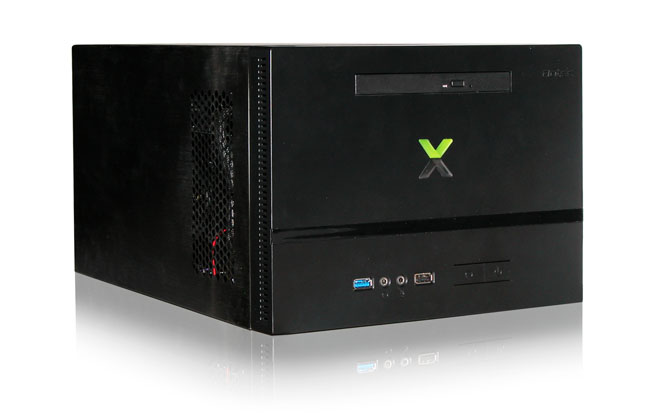 ...but Next's looks like the PC that it is
No one expects Valve's Linux-based PC-as-console box to take Sony or Microsoft head on and win - they reported PS4 and Xbox One sales to the end of 2013 of 4.2 million and 3.0 million units, respectively, by the way - but it would be nice to see Valve give it a shot. Expanding the market for PC gaming is goal enough; it doesn't have to make a bid for the top three. That said, the way the Wii U is doing, perhaps it does have a chance after all...
Ultra HD... and Beyond

While Samsung and LG continued their tit-for-tat 'our telly is better than yours' fight, Toshiba upstaged them both with its 105-inch 5K Ultra HD TV. A 4K, 3840 x 2160 panel isn't enough for Toshiba, it seems - its bosses want to watch their movies on a 5120 x 2106 job, which more closely matches the 2.4:1 ratio of cinema releases then the 1.78:1 ratio of widescreen TV. Of course, whether it'll ever sell the thing is another matter. I suspect this set will be like the 2.4:1 ratio laptop Toshiba showed off a few years back: just a gimmick with with to impress the masses.
Sharp went further: an 8K, 7680 x 4320 job, differing from past Sharp 8K TV showings at CES and IFA by adding glasses-free 3D. Nice demo, but no basis for a real product: that's a lot of upscaling all your 1920 x 1080 content has to go through.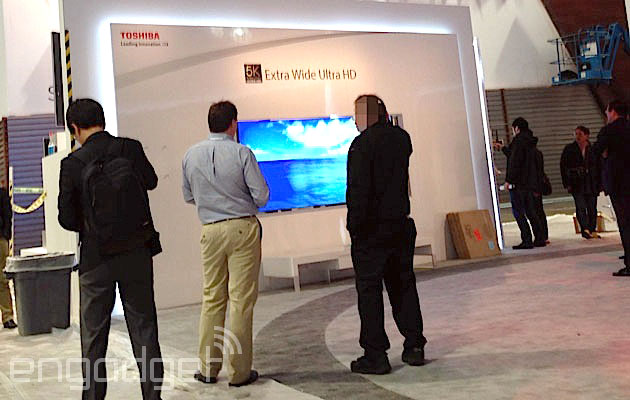 Widescreen: Toshiba's 5K TV
Source: Engadget
Sony, meanwhile, said its regular 4K TVs will support Netflix's upcoming UHD service - in the US at least. Ha, said Samsung, so will ours - and Amazon, Comacast, DirecTV and others besides. But what the South Korean giant really hoped would impress us is its flexible 85-incher: an OLED TV that can warp from flat to curved at the push of a button. Why? Because we can. Ditto its 105-inch curved UHD TV. Panasonic had sets that bent both ways.
LG UHDs will get Netflix 4K support too, but of more interest to me was its use of WebOS as the basis for future smart TVs. The Palm-created, HP-crushed mobile operating system at last finds a home, though ultimately does it matter a darn what OS a TV is running unless it's made sufficiently accessible for anyone to code for it. I can't see that happening with any television platform - the CE world is too used to being a closed one. Still, maybe there'll be more work now for one-time WebOS developers. Will Panasonic have any more luck with Firefox OS?
Wearables

Wearable computing was undoubtedly a key theme at CES this year, as representatives of companies large, small and all sizes in between rolled up their sleeves to show a huge variety of wrist-wrapped straps with on-board sensors. Most monitor basic bio data: heart rate, steps taken, deepness of sleep, that kind of thing – Epson Pulsense; Garmin's Vivofit; LG's Lifeband Touch; Scosche's Rhythm Smart+; and Sony's tiny, Shine-like Core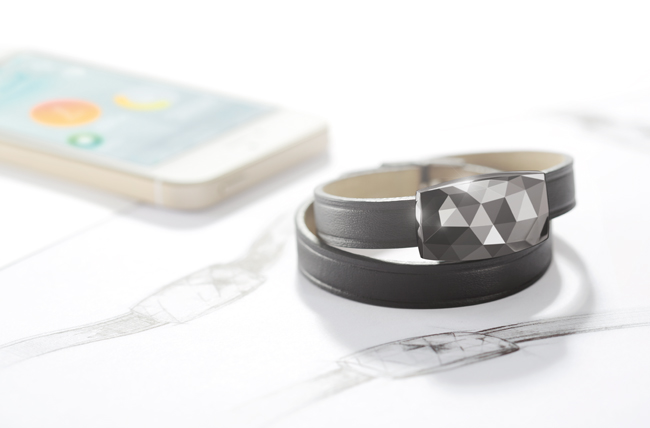 Sun shield: Netatmo's June
Netatmo was one of the few who stood out. Its June wearable not only looks different - it's being pitched more as jewellery than tech, something Fitbit, CSR and others are also now looking into - but also does something different too: it measures sun exposure, and its accompanying app tells you how much cream of what factor to slap on to stay safe. Not a trivial application, given rising melanoma incidences in Europe. The Aussies will love it. Release TBD.
Another interesting variation on the wearables theme, this one avoiding the wrist-strap form-factor: Intel's bio-sensing earphones. Only a concept design, not a real product - and almost certainly won't ever be - but it's interesting in that it shows wearable tech can perhaps should be integrated into existing products not new ones.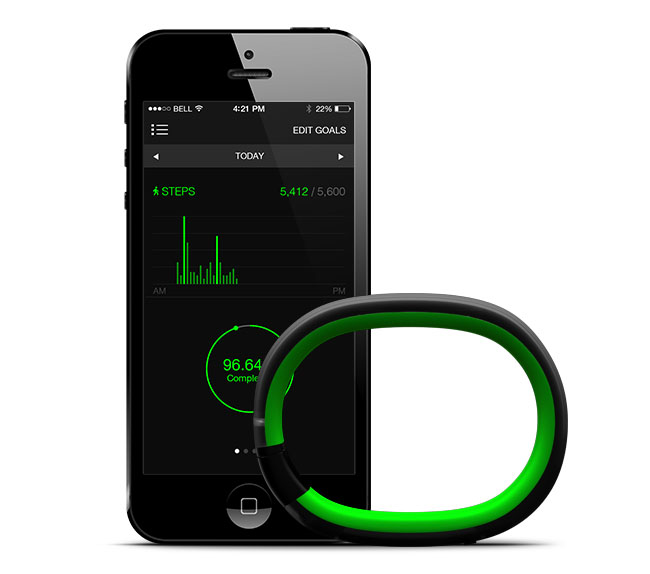 Razer's Nabu: why have two wrist bands when one will do?
Game accessory maker Razer deserves a mention: its Nabu wearable is notable for doubling up as a smartwatch. It has all the customary motion and bio sensors, but it will also relay phone notifications Pebble-style, on a 32 x 32 "public" OLED panel and a 128 x 32 pixel "private" screen. An SDK for app developers is promised.
Razer's sensible thinking is, why wear two devices when you only need wear one? Then again, this one connects to other wearers in your vicinity. Who wants to be tapped on the shoulder by a strange PC gamer? And do we really want to 'gamify' our daily lives? Razer thinks we do. ®