Your wishes have been granted: Google has quietly added a new "feature" to Gmail that allows anyone with a Google+ account to send you email even if they don't know your actual webmail address.
Over the next few days, Gmail users with Google+ accounts will start seeing names from their Google+ circles suggested as potential recipients when they start typing in the "To" field of new email messages. By default, "anyone on Google+" can email a Gmail user via their Plus account.
Unlike contacts from the user's private address book, only the names of Google+ users are displayed and not their email addresses. Recipients have to respond with emails of their own for their addresses to be revealed.
In a blog post, Gmail product manager David Nachum described the new feature as an extension of Google's earlier work to integrate Gmail and Google+ contacts. Since December, for example, Gmail users' address books have been automatically updated with contact information from the Google+ profiles of their contacts who use the Chocolate Factory's social network.
Nachum says the goal is not actually to give spammers a new way to mount an all-out assault on your inbox, as you might assume, but to make it easier for casual Google+ acquaintances to contact each other.
"Have you ever started typing an email to someone only to realize halfway through the draft that you haven't actually exchanged email addresses?" Nachum wrote. "If you are nodding your head 'yes' and already have a Google+ profile, then you're in luck."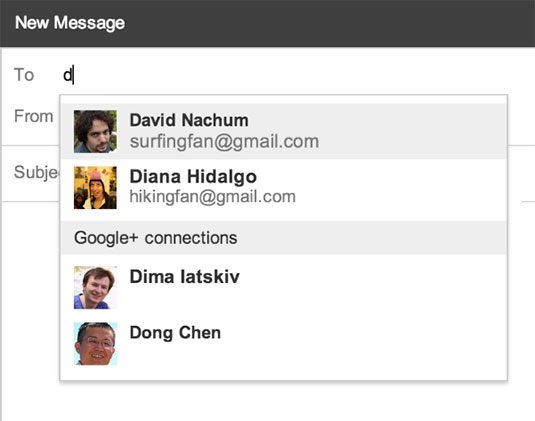 Don't know how to reach your Google+ contacts by email? Fear not, Gmail will find them for you
Incoming emails will also be partially filtered using Gmail's new inbox buckets. When you receive an email from someone in your Google+ Circles, it will appear in your Primary tab, but Google+ users who aren't in your Circles will have their messages relegated to the Social tab.
Then again, if the whole idea sounds horrible to you, you can actually switch it off. A new Gmail setting allows you to configure your inbox so that it accepts messages only from people in your Google+ Circles or even blocks all email from Google+ contacts altogether.

If you prefer peace and quiet, head forthwith for your Gmail settings
If you can't find the setting in your Gmail inbox now, that's probably because the latest Google+ integration is not enabled for you yet. Google says it will email all Gmail users a note explaining the changes over the next couple of days, and it will only switch on the feature for a user once he or she has been notified. ®
Similar topics