Nokia's phone division has released an app that might upset the high priests at the Temple of Windows Phone Design – who will shortly become its new masters.
The app allows users to add folders to the Windows Phone Home Screen – thereby desecrating the hallowed ground which by almighty decree, Must Never Change.
It's part of a release for Lumia owners called "Black", consisting of an over-the-air system update from Microsoft, called GDR3, bundled with system add-ons from Nokia, and also the synchronised release of new or updated apps that Lumia owners can download from the Windows Phone Store. The heretical arrival, called "App Folder", is one of the latter.
Overall, the release includes the ability to close apps; imaging enhancements, including raw DNG support (for 1020 owners - which 1520 owners already have); Nokia Refocus (covered here); a screen-sharing app called Beamer; and Storyteller. It's only available for WP8 devices.
Giving users the ability to create folders might be seen as a sign of impatience - or perhaps even a provocation. As the rest of Microsoft moved to a more rapid annual release schedule, the Windows Phone team moved to a longer release cycle. The user interface has remained unchanged since its launch in 2010, with one potential licensee grumbling to us that Terry Myerson (then WinPho chief) was "very much about preserving the purity of his platform."
Nokia sells over 90 per cent of Windows Phones, so its opinion of what WP should look like is influential. Perhaps Nokia is emboldened that both Myerson and Joe Belfiori, who ran the Windows Phone design team, have moved on to other things: Belfiore to run Internet Explorer development and Myerson to run the Operating Systems group.
App Folders isn't truly integrated into the system, and adds a fraction of a delay (a folder opens in a couple of seconds) to your workflow. In this first release, folders can contain apps and some shortcuts, but not individual contacts, Playlists, map locations or web pages - all of which can be pinned to the conventional home screen. Strangely, apps such as Settings and Store can't be included in folders.
Here's what it can look like.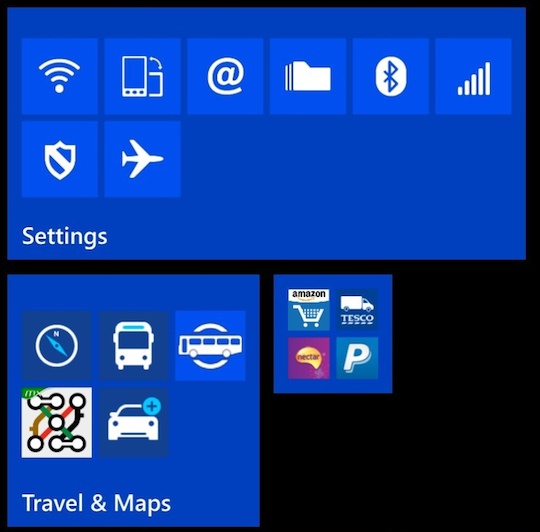 The OTA portion of the "Black" release rolled out to Lumia 1020 and 925 owners overnight although all WP8 devices will receive it in the next few weeks. Any Lumia can download the App Folder app right away, however. More details here. ®
Similar topics