This article is more than 1 year old
Forget selfies. 'Server SAN' is storage world's 2014 TWERKNADO
Converged SANs and servers the next big thing
The Wikibon consultancy says a developing Server SAN form of storage needs to be tracked by IT people.
The authors bring together the concepts of virtual SANs and converged server/storage hardware and software systems with a server SAN being a collection of servers whose direct-attached storage (DAS) is virtualised by software into a single storage resource pool available to all the servers.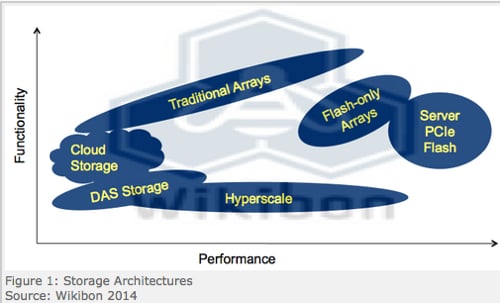 This is positioned against and contrasted with single server's DAS, networked storage (SAN and NAS), cloud storage and hyperscale (distributed DAS) storage. Server SANs are characterised as having moderate functionality and medium to fast performance now with functionality growing strongly and performance a little over second and third phases of development.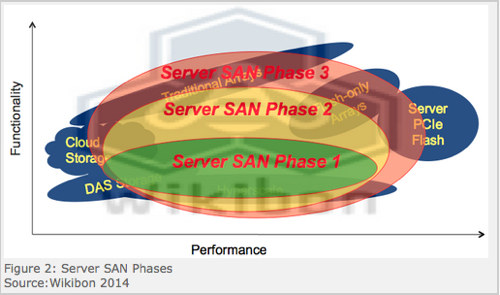 The Wikibon authors say server SAN storage is characterised by;
The management of storage should be simply as "storage", in other words the administrator should not need to worry about LUNs, ports or switch configurations.
The system will understand performance characteristics such that there do not need to be knobs or an understanding of RAID types.
It must support multiple applications and volumes.
Software should be able to optimize the total throughput of the system or for a single tenant or application.
Performance can be better than a traditional SAN by ensuring that data is near processors with minimal network latency.
They write: "Server SAN moves beyond the performance and capacity limitations of DAS. Support of both disk and flash broadens the applicable application scenarios. The potential for highest performance is with PCIe Flash and atomic writes."
Here's the core summary in our view:
A true scale-out architecture provides the ability to seamlessly add capacity and performance as needed without any manual configuration or management intervention for either adding or removing drives or nodes. As for hardware, Server SAN can leverage commodity compute based architecture; this means that there is an elimination of an external or separate storage array. A convergence of compute and storage allows for lower latency and simplicity of deployment and management.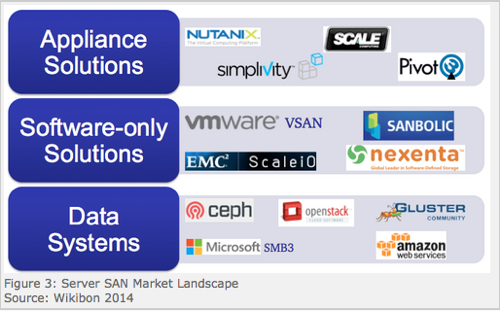 Wikibon Server SAN Market landscape.
The report identifies three categories of suppliers: HW-SW appliances from Nutanix, Simplivity and others, SW-only products from VMware, EMC, Nexenta and Sanbolic, and Data Systems like Gluster AWS and OpenStack.
We would add HP's StoreVirtual to the appliance list, Maxta to the SW list, and there are probably others too - such as NetApp's ONTAP Edge and StorMagic. All depend upon COTS (commercial off-the-shelf) hardware. Wikibon's authors comment that: "the line between appliances and software-only solutions [is] blurring greatly."
Wikibon adds an Action Item to its Server SAN report:
The investments that companies have made in people, processes and technology of traditional storage infrastructure is slowly going to die. Customers do not need to rip and replace what they have, but they do need to learn about these new architectures and consider how new applications and new infrastructure models like Server SAN can fit into future deployments. Wikibon believes that a large percentage of applications will leverage Server SAN architectures by the end of the decade.
Read the Wikibon report here. ®