An argument over space aliens ended in a cuffing for a New Mexico resident after she reportedly threatened her other half with a handgun she whipped from her vagina.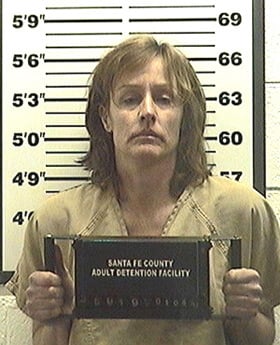 Jennifer McCarthy poses for law enforcement
The police statement of probable cause says Jennifer McCarthy, 48, exchanged heated verbals with her 53-year-old boyfriend at their residence in Santa Fe on Saturday morning. Police say that according to her partner's testimony, she left the house, returned later, "went into her bedroom", then "came out of her bedroom wearing lingerie and a silver handgun in her vagina".
The statement continues: "Jennifer started to have inner course [sic] with the gun and stated, 'Who is crazy, you or me?'"
She then allegedly extracted the firearm from her pork holster and held it to her boyfriend's head, at which point he disarmed her and "put the gun in the toilet".
He told police that he subsequently moved the Smith and Wesson to a trash can outside the house, where it was recovered by arresting officer Chris Zook.
McCarthy was arrested, booked on an Aggravated Assault on a Household Member rap, and released from county jail on Sunday morning after posting $5,000 bail. ®
Bootnote
Evidently, there is no IT angle to this improbable tale, but we're delighted to offer you some literary compensation. McCarthy is the ex-missus of Pulitzer Prize-winning novelist novelist Cormac McCarthy, he of No Country for Old Men fame. The couple tied the knot in 1998 and divorced in 2006.