This article is more than 1 year old
OCZ and Toshiba drive out new retail SSD line with Barefoot controller
Tech show tease reveals flashy fruits of acquisition
CES 2014 Bankrupt hardware maker OCZ, whose assets are being bought by Toshiba, has a Vertex 460 enterprise SSD device in the pipeline, with a preview of it being shown at CES in Las Vegas.
According to The SSD Review the Vertex 460 features:
120, 240 and 480GB capacity points
Up to 95,000 random read IOPS
Up to 550MB/sec sequential IO bandwidth
Assumed 6Gbit/s SATA interface
There is an OCZ slide image in the SSD Review story, which we've copied below, and it shows very good mixed workload IO performance against selected competitors.
This Vertex uses Toshiba 19nm toggle-mode MLC flash instead of the previous Vertex 4's Intel 25nm sync MLC chips. It also uses an OCZ Barefoot 3 M10 controller and the device is a joint OCZ-Toshiba product.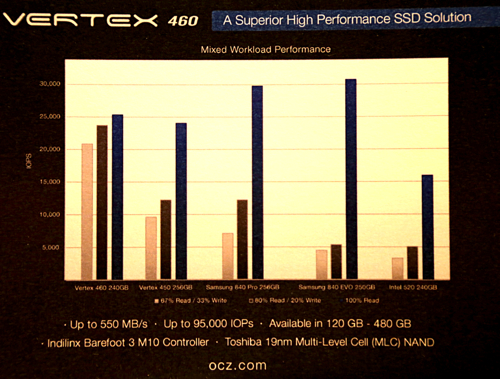 Click on the chart to get larger, more readable version.
The report says the OCZ brand name will be retained, at least for a time. It's great to see OCZ developing impressive products like this and it confirms Toshiba's intent to play a much larger part in enterprise (and consumer?) flash product markets.
We still wait to see how a Toshiba-OCZ combination will play out against Toshiba's foundry output partner, SanDisk, which has its own range of enterprise and consumer flash products.
There's also the branding and product range integration issues Toshiba has to resolve when combing OCZ's SSD products with its own range. ®