This article is more than 1 year old
Hubble 'scope snaps 600-LIGHT-YEAR-wide pic of star-spawning nebula
Astroboffins: We can track these twinklers from the cradle to the fiery grave
Pic The Hubble Space Telescope has had a peek behind the clouds of frenzied star-birthing supercluster the Tarantula Nebula, the nearest observable laboratory of the kind of star-making that was common in the early Universe.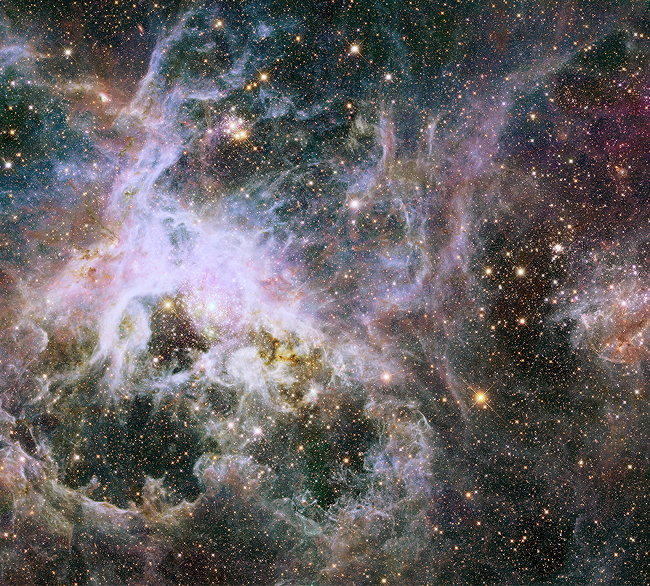 Thar she blows: The Tarantula Nebula, birthplace of "thousands" of stars
NASA's space telescope used near-infrared views to get a glimpse of the more than 800,000 stars and protostars embedded in the nebula, which are behind clouds of dust that can only be pierced by near-infrared light.
The Tarantula Nebula is 170,000 light years away in the Large Magellanic Cloud, a small satellite galaxy to our own Milky Way. Astroboffins are particularly keen on studying the nebula because of the amount of star birth going on in there, with stars, red protostars, ageing red giants and supergiants all giving insights into stellar evolution.
The huge Hubble mosaic is made up of 438 separate pictures and spans 600 light-years.
"Because of the mosaic's exquisite detail and sheer breadth, we can follow how episodes of star birth migrate across the region in space and time," said Elena Sabbi, an astronomer at the Space Telescope Science Institute.
Stars started forming in the nebula tens of millions of years ago, but the star-making wasn't confined to one region. Within the Tarantula Nebula, pockets of star birth are bursting to life erratically, as soon as enough gas has accumulated.
These pockets will likely eventually merge into larger clusters, helping researchers to answer questions like whether supermassive stars always form in clusters or whether they can be born in isolation. ®