This article is more than 1 year old
Furtive ebook readers push Hitler's Mein Kampf up the charts
What's the worst book you can imagine getting caught with?
Poll Only neo-Nazis and painfully self-conscious pseudo-intellectuals actually want to be caught reading a copy of Adolf Hitler's anti-Semitic diatribe Mein Kampf - which might explain why the book is riding high on ebook charts.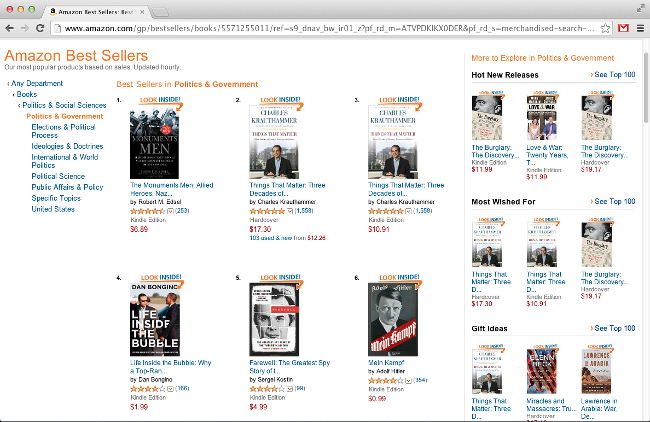 In a trend first noticed by Chris Faraone at Vocativ.com, Hitler's jailhouse book - particularly the $0.99 or £0.99 version - is proving quite popular on Amazon. Today, the cheap edition ebook is number 16 of the top bestsellers in the Society, Politics and Philosophy section of Amazon.co.uk and the sixth highest bestseller in the Politics and Government section of Amazon.com. A £2.49 edition is also number 8 on Apple's British iTunes store in Politics and Current Affairs, while the $2.99 version is 16th on the US iTunes list of most popular in Politics and Current Events.
While there are of course legitimate academic reasons to study the text and regular folks may just be plain curious about the book, reading Mein Kampf isn't exactly the sort of thing people will want to do on the commute to work - which could be exactly why it's proving so popular in ebook format. Just like modern-day porn/romance novels like Fifty Shades of Grey and horribly written but immensely popular books like the Twilight novels and Dan Brown's offerings, Mein Kampf can be read surreptitiously but right in everyone's faces at the same time via the anonymising format of an ereader.
Which makes you wonder what else folks are hiding on their ereader screens - and what book they'd be more embarrassed to be caught reading. Does it depend on the situation - such as the CEO walking in on the IT team feverishly scrolling through C++ for Dummies? We don't know, so you tell us - what's the most embarrassing book to be seen reading?
®