This article is more than 1 year old
Light, fast ... and pricey: Toshiba's Portégé Z30 – now THIS is an Ultrabook
Full of Windows 7 whimsy with an 8.1 disc if you dare
Review When Toshiba Portégé turned up and I lifted the out of the box, I started laughing. Now, I'm not suggesting that the arrival of Toshiba Ultrabook is a joke, quite the opposite in fact. What amused me was just how light it was – a mere 1.2kg for this 13.3-inch machine.
I'd prepared myself to haul something heavier, only to find I was clasping a mere wisp of a notebook measuring up at 316 x 227 x 18mm.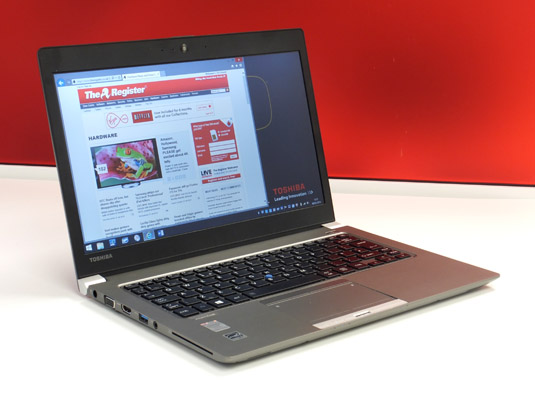 Toshiba Portégé Z30: in the UK it's preloaded with Windows 7 Pro with 8.1 Pro upgrade discs - no optical drive in the box though
Now, that's more like it. I've dragged around a fair few notebooks claiming to be in Ultrabook club that have firmly reached the boundaries in terms of size and have felt decidedly like heavyweight laptops of old.
At first glance you might think that someone from Toshiba has been moonlighting for Acer designing Chromebooks. Yet unlike Acer's 11.6-inch plastic pal that's fun to be with, the Portégé Z30-A 10Z features a magnesium chassis and metal outer shells. The the palm rests look the part too, but have more of a plastic warmth to them.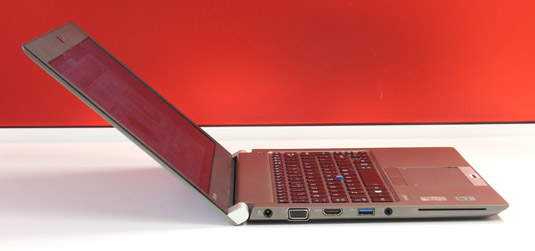 Business as usual: VGA still lingers with HDMI, USB 3.0, mic/headphone combo and SmartCard reader
Perhaps keeping things a little warmer still is the 2.1GHz dual-core Intel Core i7-4600U CPU which relies on the integrated Intel HD Graphics 4400 GPU for visual duties. Being a fourth generation "Haswell" chip there are battery life savings to be had here, Toshiba claims up to 12 hours from its four-cell 52Whr, 3380mAh Li-Po battery. We'll see how it goes.
There are Core i3 and Core i5 incarnations of the Portégé Z30 series, with 4GB of RAM and a 128GB SSD – but this core i7 model has double the capacity of both with 8GB of RAM (upgradable to 16GB) and a Toshiba THNSNH256GMCT 256GB SSD.
So at least you're not tied to build-to-order on-board soldered RAM and storage decisions.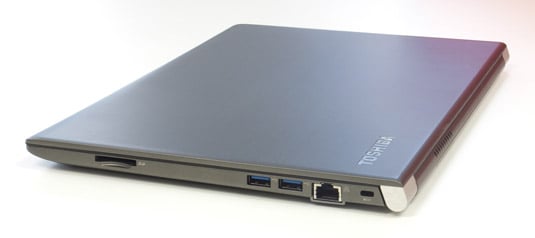 SD card slot along with more USB 3.0 interfacing and Gigabit Ethernet
Talking of decisions, out of the box the Portégé runs Windows 7 Pro, however, in the box is a package of two Windows 8.1 Pro discs that will upgrade the OS and load up all of Toshiba's extras. What's wrong with this picture is the Portégé has no optical drive and no matter how hard I shook the box, an external USB DVD drive didn't drop out of it. Feeling adventurous though, I did attempt the upgrade with the help of a Plextor PX-L611U DVD writer – more on this later.
OK, so it's confession time, you've read this far and I've neglected to say that the 13.3-inch screen resolution isn't full HD but is 1366 x 768 pixels. Yes, here at Vulture Central we're very much aware that many of you will have decided not to read further than that last sentence, but you'll miss out on all the fun, honest.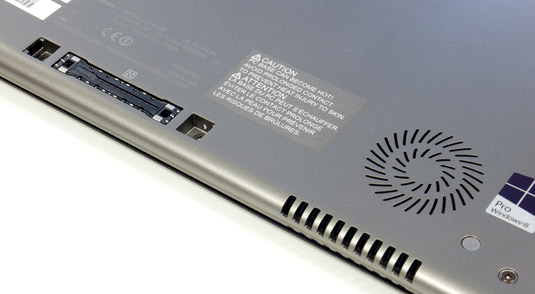 Docking interface in the base for office adornments
After all, given there's a docking port replicator in the base, surely Portégé business bods will have one on their desk already hooked up to a full HD screen and maybe a full-size keyboard too?
Sounding off
Just about everybody using a laptop at El Reg has a big screen set-up, so it's not hard to imagine similar workplace scenarios, given the Portégé isn't targeted at solo screen consumer users. Indeed, that's another reason for the Win 7 set-up, not everyone in business has been won over to the idea of a schizoid interface featuring coloured tiles.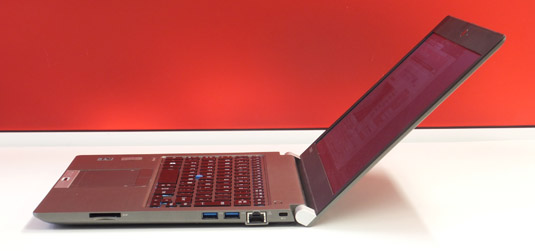 Taking the shine off things: who wouldn't want matte screen on the move?
The screen itself has a matte finish, which is also superb for dealing with overhead lights in an office environment – you might get a bit of a dull shine when you tilt the screen back some way, but you're not treated to a mirror dance. It's respectably bright too, but is subject to shading when off-axis viewing with the tilt angle having a bit of a sweet spot too. In use with Word on Office 365 with the Ribbon on Autohide or Tabs-only, there's plenty of workspace. There's plenty of battery life too.
That claim of a 12-hour battery life for the Portégé Z30, might seem a bit fanciful but having used it, I've every reason to believe it. I spent a day working from the battery, mainly typing but with occasional web browsing. I let the screen do its auto-dim default for battery power, which was a bit below my preferred intensity, but not a major problem.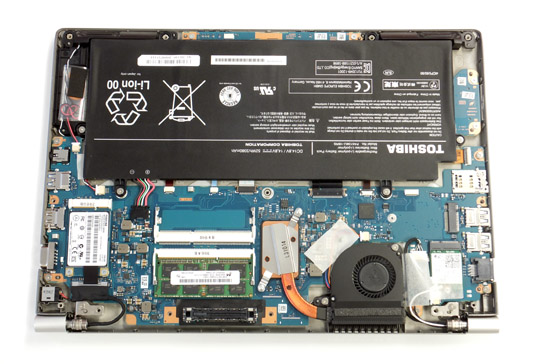 Both the SSD and the RAM are removable parts - click for a larger image
Six hours later, the battery was still showing at 58 per cent and that's without any prolonged breaks or the Portégé Z30 going to sleep either. I carried on and the beast still wouldn't die and we're running a Core i7 machine too, don't forget.
Tests with PCMark 8 notched up a battery life score of 5hrs 45mins and you can usually double that for general use, so we're not far off 12 hours. Among the Tools and Utilities featured in Toshiba's Desktop Assist app bundle showcase is Eco Mode, which can add to the battery time stretching. It brings together the various energy-saving tweaks that can be made and enables changes to them with a simple slider to alter power consumption. A green icon on the trackpad lights up to show it's engaged – which rather defeats the power-saving message, in my view.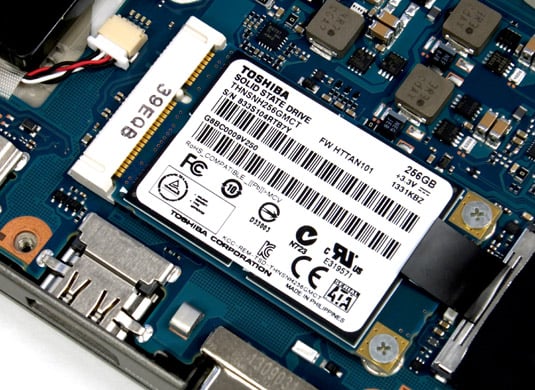 Performance and capacity benefits: this Core i7 model gets a 256GB mSATA SSD – click for a larger image
Lest we forget, there are other Power Option plans from the Windows Control panel, some of which have a bearing on processor performance. Tests in various modes saw at best a PCMark 8 score of 3342 for High performance; 3319 Balanced; 2503 Eco and 2184 Battery saver. The Casual Gaming frame rates varied from 16fps down to 14fps, so you'd have to be very casual about gaming to be satisfied there.
Powering up from cold consistently made it to the desktop in less than 15 seconds, more frequently managing it under eight seconds on Windows 8.1 Pro with sleep-to-desktop making it in around three seconds.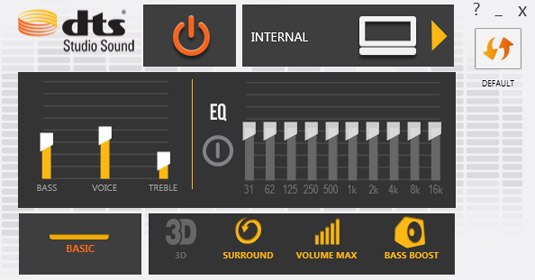 DTS Studio Sound audio enhancer makes a difference but the speakers are simply gutless
As for entertainment, among the apps provided is DTS Studio Sound, an movies and music audio enhancer, but the phrases "silk purse" and "sow's ear" spring to mind given the minuscule speakers this software has to grapple with. Without it, the speakers sound terribly thin and shockingly bad.
Like Dolby Theatre and Waves Maxx, the DTS treatment bolsters the sound, but if you start playing with the spatial options, the signal soon starts to crack up at high levels and you'll inevitably have it cranked up full for a mainstream movie or you'll not hear much dialogue.