This article is more than 1 year old
Light, fast ... and pricey: Toshiba's Portégé Z30 – now THIS is an Ultrabook
Full of Windows 7 whimsy with an 8.1 disc if you dare
Upgrade paths
So what about the Windows 8.1 Pro upgrade experience? Well, a lot will depend on the speed of your external optical drive, but the whole rigmarole took just under two hours. A note on the DVD wrapper says boot up holding down F12, select the optical drive from the boot menu and follow the instructions.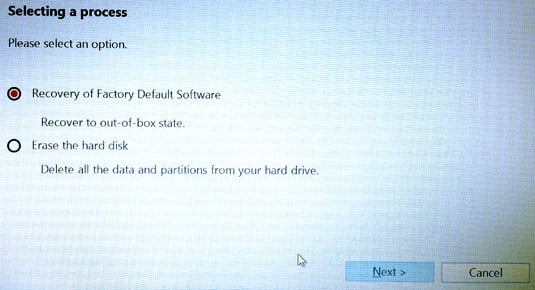 Toshiba's Windows 8.1 Pro upgrade process: click through to get the out-of-the-box state that isn't, as this machine was shipped with Windows 7 Pro installed
However the next stage will most likely confuse some as you see two recovery options: Toshiba Recovery Wizard or System Recovery Options. The latter will offer all sorts of reset and refresh options, so stick with the first choice.
You get warned that the Toshiba Recovery Wizard will erase any existing files in the process, as it upgrades to Windows 8.1 Pro and installs Toshiba's own extras. The good news is that this installer is all scripted so, apart from changing discs, it'll go through the motions without requiring endless confirmation clicks from you – and it creates a PBR image too.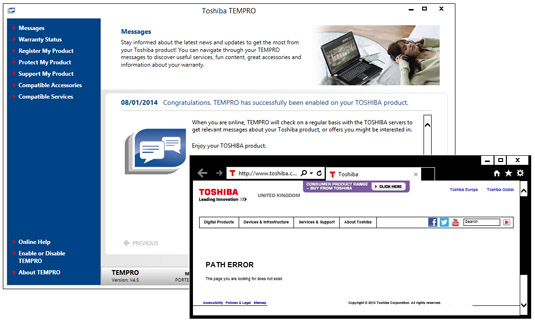 Temperamental TEMPRO: Accessories and Compatible Services links conjure up discontinued product URLs
Click for a larger image
Toshiba's apps are identical for both systems with just a bit of a visual makeover in places. One that new users will find popping up at some point is Toshiba TEMPRO which handles registration and warranty matters, as well as support. Yet like Dell's Inspiron 15 7000 that we reviewed recently, this welcome to the machine software has several dead links. Compatible Accessories anyone? PATH ERROR. Compatible Services? PATH ERROR.
Perhaps these vendors should try eating their own dog food using their machines from time-to-time, they might get a few surprises... and maybe more people would end up buying accessories. Now there's an incentive, as I had the same error on TEMPRO for both Windows 7 Pro and Windows 8.1 Pro instals.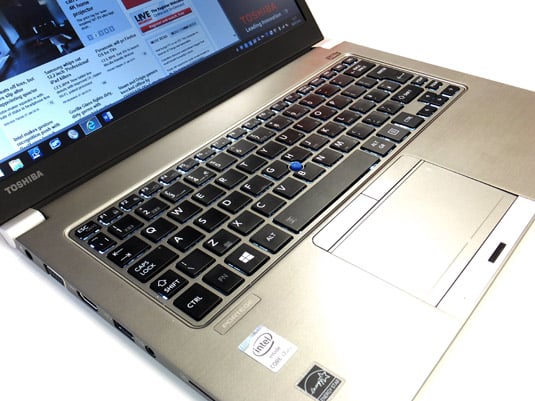 The backlit keyboard features a blue trackpoint nipple and there's a fingerprint reader at base of the trackpad
My accuracy when typing on the backlit keyboard suffered slightly being skewed by the off-centre trackpad (I'm left-handed and have ranted about this computing bias before). The keys themselves were a tad soft with not a great deal of travel on them, which seems to be de rigeur these days. Thankfully neither trackpad nor keyboard were especially noisy. The 2Mp webcam turned out to be a bit of a star though, with spot-on colour balance delivering the most natural looking video I've seen from a laptop cam.
Incidentally, having such easy access to boot options from the F12 key made testing Linux a breeze. A while ago a reader suggested trying out Sabayon Linux and I can see why. It's very slick and booted up without a problem configured with the Universal USB Installer from a Pen Drive Linux.
Apart from Masochist Linux – I did my share of that sort of thing trying to get buggy PPC versions to run on G3 iMacs – distro suggestions are welcome in the comments. 2014 has only just begun, so we should be able to get through boot up tests with a fair few of them. I tried Linux Mint on this Toshiba and it plays nicely too.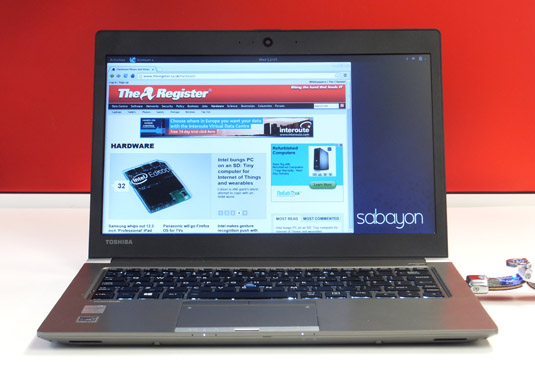 Sabayon Linux boots easily enough from a Pen Drive Linux USB stick
The Reg Verdict
As its makers no doubt intended, I found I was lugging the Toshiba Portégé Z30 around everywhere without noticing it as a major imposition. Also having a machine that's more likely to be alive than dead when it comes to battery life is major confidence booster, as you sense you can rely on it to get you through the day and then some. I could see it as an easy choice for frequent flyers.
Being primarily a business laptop, its styling is heavy on understatement, but it still makes an impression as this is no colossal XP hand-me-down that'll have other execs sniggering. Although that Ultrabook price premium remains, and at £1,300 the chances are you'll stifle a nervous laugh when putting in the bill for the cost. ®

Light, fast ... and pricey: Toshiba's Portégé Z30 – now THIS is an Ultrabook
1.2kg Ultrabook with dual-core 2.1GHz Intel Core i7-4600U CPU, 8GB of RAM, 256GB mSATA SSD, 13.3in 1366 x 768 matt display and SmartCard and fingerprint readers.