The UK's Sheffield-based Iceotope has grabbed $10m (£6.10m) in funding to help it push its liquid-cooling server tech into more data centres.
The cash injection was announced on Monday, and should let the company double in size from 16 to more than 30 employees in the next year, Iceotope chief executive Peter Hopton told The Register last night.
Liquid cooling involves immersing chips in baths of non-conducting fluid, a technique that's supposed to be more effective than air cooling and cheaper than relying on banks of chillers.
It is an area of great interest to large tech operators – Facebook, for instance, is dunking some servers into baths of gloop in a salt shed in Oregon.
"One of the really cool and intriguing things that is a potential future would be to see how far we could over-clock CPUs if we could cool them with liquid," Facebook's supply chain bigwig Frank Frankovsky told us at the time.
Now, Iceotope hopes to use its multimillion-pound investment to push its integrated appliance-style immersion cooling kit to smaller firms that don't have the scale and technical means of Facebook.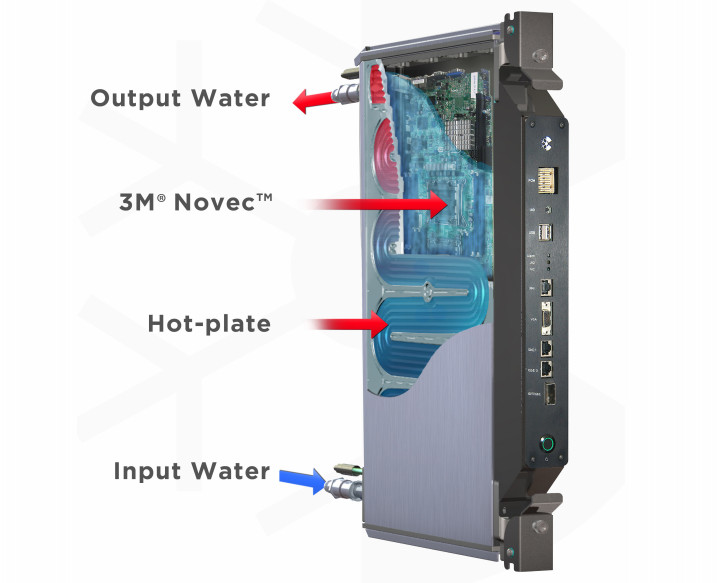 Iceotope ... where oil and water DO mix
International investment firm Aster Capital and UK high-tech VC biz Ombu Group coughed up the $10m investment. As part of the cash splurge, Iceotope can hook up with Aster Capital's data center experts Schneider Electric.
Its approach tries to tackle the problem that lurks within any immersion cooled infrastructure: maintenance.
Iceotope's server modules [PDF] each contain an Intel or AMD x86 motherboard, and a cooling system that can take in water that's up to 45°C. Eight of these modules fit into a 19inch-wide cabinet [PDF], and three cabinets fit inside a rack. Each module is a sealed container filled with a 3M Novec non-conductive, inert liquid that transfers heat from the electronics to the circulating water supply.
"What we tried to do is instead of having an off-the-shelf server that you then retrofit, you instead have a motherboard inside an Iceotope cartridge which modularly slots in and plugs into a cabinet," Hopton explained.
The company has three customers it can talk about – the University of Leeds, parts of the National Supercomputing Centre in Poland, and the University of Huddersfield, along with some other outfits it cannot disclose.
Organisations use Iceotope's technology because it removes the need for external chillers, HVAC machines, and so on, Hopton said. It also lets them run their chips at higher clock speeds as the 3M gunge helps wick heat away very effectively.
"Running at high temperatures at greater efficiencies is a key usage case," he told us.
The money will be used to further the commercialization of the tech, and Iceotope will start taking bulk orders in the second quarter of this year and onward. ®