This article is more than 1 year old
Latest Chrome adds Chrome OS flavor to Windows 8 'Metro' mode
Noisy tab alerts, supervised users, and malware blocking, too
Google on Tuesday delivered a new stable version of Chrome that offers a few features previously only available in beta versions, as well as giving a major overhaul to the UI of the browser's Windows 8 mode.
The new version is the first mainstream release to include a feature that allows users to quickly locate tabs that are playing unwanted audio.
The shipping version of the feature works a little differently than it did when it debuted in the ultra-experimental Chrome Canary branch last year. That early version indicated noisy tabs by putting an animated EQ graphic next to their titles, but the current version uses a less-obtrusive speaker icon.
In addition, two new icons will similarly alert you when one of your browser tabs is accessing your webcam or is being mirrored on your TV via Chromecast.

Chrome's tabs will now alert you when they're playing audio, using your webcam, or streaming to your TV
Another feature that has made it into mainstream Chrome after premiering in experimental builds is supervised users, which allows parents and other overseers to monitor the browsing habits of their charges. The control panel that allows you to manage your supervised users is still technically in beta, but you no longer need a beta build of Chrome to take advantage of the capability.
The latest Chrome also comes with a new anti-malware feature that will automatically block downloads of files that it considers malicious and issue a warning message.
But perhaps the biggest change in the new release is the revamped version of Chrome's Windows 8 mode, the alternative UI for the browser that runs as an app for the touch-centric Windows 8 Start Screen (known to everyone but Microsoft as "Metro" mode).
Beginning on Tuesday, when you launch Chrome as a Windows 8 app you're greeted with an interface that more closely resembles Chrome OS, complete with a set of web app–launching icons along the bottom edge of the screen.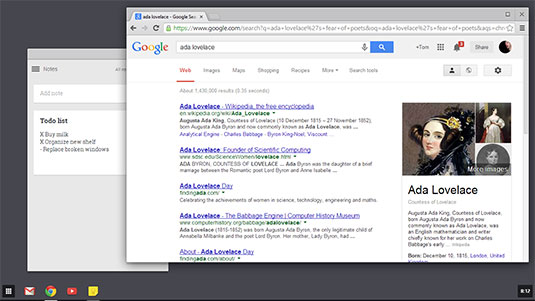 A little taste of Chrome OS on Windows: Chrome's new UI for its Windows 8 mode
Google says it has updated the styling of the app mode's UI elements such as scroll bars and form controls so that they blend in better with the Windows 8 look and feel.
In a break with Windows 8 tradition, however, the app version of the browser also now allows you to manage multiple tabbed windows on the same screen. That differs from most Windows 8 apps, which eschew multiple windows, dialog boxes, and other traditional UI elements in favor of a streamlined, single-view approach.
The new Chrome release, version 32.0.1700.76, is available now from the Chrome homepage and via the browser's internal update mechanism. ®