E-tagged insects a buzz for research
The Internet of things bees
Australian science agency the CSIRO is fitting sensors onto thousands of honeybees in a research program designed to shed light on colony collapses.
The "swarm sensing" project uses 2.5mm-square devices that will be attached to as many as 5,000 bees in Hobart, Tasmania.
One aim of the project will be to work out which bees are visiting sites contaminated with agricultural chemicals, as project Dr Paulo de Souza explains: "Using this technology, we aim to understand the bee's relationship with its environment. This should help us understand optimal productivity conditions as well as further our knowledge of the cause of colony collapse disorder."
The RFI tags will clock the bees in and out as they pass checkpoints, CSIRO says.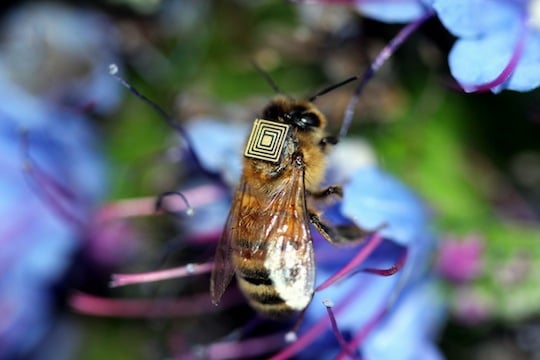 The Internet of bees: sensor attached and ready to go. Image: CSIRO
Attaching the tags is simple enough: the bees are refrigerated for a short while to make them groggy, allowing the tags to be super-glued to the insect on a shaved patch on the thorax. The tags are light and small enough not to interfere with the bees' activity or flight.
While the bee is still chilling, the tag is registered to an inventory.
The records of flight and swarming allows the researchers to build models of bee behaviour, provide detailed models of how both swarms and individuals move through a landscape – background information that will help the scientists provide advice both to beekeepers and the farmers that depend on them for pollination.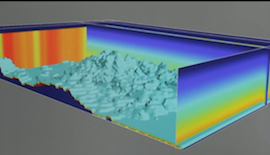 3D model built from tag data. Source: CSIRO
"Bees are social insects that return to the same point and operate on a very predictable schedule. Any change in their behaviour indicates a change in their environment. If we can model their movements, we'll be able to recognise very quickly when their activity shows variation and identify the cause. This will help us understand how to maximise their productivity as well as monitor for any biosecurity risks", de Souza said.
Australia is currently free of colony collapse disorder (CCD), but understanding the dynamics of healthy colonies should contribute to studying CCD. The same applies to Varroa Mite, which hasn't arrived in Australia but haunts the nightmares of beekeepers here.
In future, CSIRO hopes to shrink the sensors down to 1mm x 1mm for research into other insects like mosquitoes and fruit fly.
CSIRO has a video of the project here. ®