HDS and Verizon pair up to take on Rackspace, Amazon in the clouds
Verizon, Jack and Larry walk into a bar...
Verizon's public cloud, which we've already heard is to use Oracle's Database, is going to offer a storage service based on HDS's Content Platform.
The two suppliers have announced an agreement to develop a software-defined storage solution using HCP and HCP Anywhere.
Verizon is huge, with, for example, 100 million retail connections on its wireless network in the USA. Its 2012 revenues approached $116bn.
Verizon Terremarks CTO John Considine said: "We are building a dynamic ecosystem of enterprise-class networking, storage, and software-based capabilities that will run on top of our new Verizon Cloud infrastructure and Hitachi Data Systems is an important part of this plan."
HCP is an scalable, object-based storage system with data being deduplicated and compressed. It features Amazon S3 cloud application support and the tagging of files with custom metadata from multiple users and applications.
HCP Anywhere is a file synchronisation and sharing facility that stores its files on HCP.
HDS EVP for global solutions strategy and development, John Mansfield, joined Considine in the canned quote department: "File sharing is a key part of every business and HCP Anywhere solves the problems of complexity, security, and data migration for the enterprise. HCP Anywhere is built with today's mobile users in mind, so that employees, partners and customers can connect with their content from any device or location."
We understand that the HCP product set has a worldwide customer base with "Approximately 60 per cent being large to enterprise customers and ranging across government agencies, telcos and cloud service providers, financial services, media and entertainment, as well as advanced healthcare and life sciences."
We can now add Verizon to that list.
Verizon Cloud
Verizon's public cloud was announced in October last year, when we wrote: "the cloud will offer an object store, a block store, and a compute service with finer levels of selection for memory sizes on instances than Amazon. … the new cloud uses a … streamlined stack relying on a single vendor for compute and storage, and a single vendor (Arista) for networking."
It looks like HDS is that storage vendor.
Verizon is taking on Amazon, Azure, Google and Rackspace and says it has advantages over them, with a comparison to Amazon and Rackspace in the table below: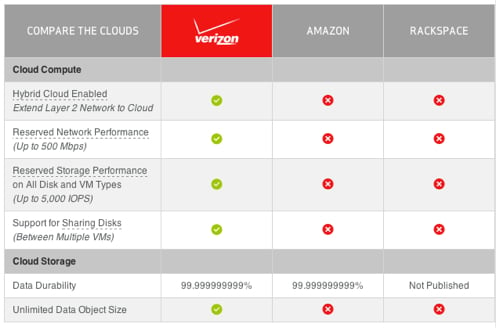 Verizon cloud vs Amazon and Rackspace
Potential customers are being invited to join a beta program. The pricing has not been decided: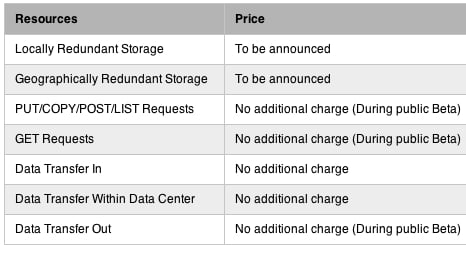 Verizon Cloud pricing - TBA
This is a good win for HDS, providing a showcase for HCP and a boost for object storage technology. It could grow, if Verizon is successful with its cloudy efforts, into a multi-petabyte object data store. ®