Licenses blocking third-party emergency warnings
Oz governments still lag on open data
Last weekend, a fire-storm in the Perth Hills destroyed 55 homes, and today, Victoria is facing fire conditions close to those experienced on "Black Saturday" in 2009 (having already suffered power cuts in the heatwave).
In such conditions, emergency services do their best to distribute warning information via their Websites and apps, but outages and slow system responses are frequent.
For example, when the Perth Hills fires were at their worst last weekend, Vulture South observed time-outs and page load times stretching beyond three minutes at the Western Australia Department of Fire and Emergency Services alerts map.
If a disaster occurs in the next 24-48 hours in Victoria, the same could happen.
Which makes this image mystifying to The Register: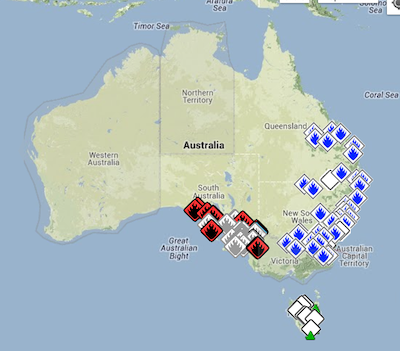 Google's pro-bono crisis mapping work is a valuable second source of information about fires. Updated from the original sources (in the case of bushfires in Australia, the responsible emergency services organisation), they're served by an infrastructure that's robust under load – a little corner of the Googleplex.
The Register does not argue that online alerts are yet at the life-or-death level. There are many obstacles in the way – and one of those obstacles is infrastructure reliability. As the importance and utility of emergency service alerts over the Internet grows, however, an effective "second source" for raw data will also become more important.
Even today, online alerts at least provide this: they let people know where not to go – which is important to help prevent an emergency escalating simply because people didn't know to stay away.
And in an era where so much is said about open government data, the absence of states like Western Australia and Victoria from the Google effort is a failure of open government.
Both states have feeds that could be integrated into the Google crisis maps with minimal effort, both states have a public commitment to open data, and both states have licenses that prevent their feeds being mirrored by Google.
The Western Australia Department of Fire and Emergency Services' RSS "feeds are made available for personal, non-commercial use only. You may not edit or modify the text, content or links supplied", Victoria's Country Fire Authority's copyright statement is clear: "no part may be reproduced or reused for any commercial purposes whatsoever".
(Curiously, the CFA copyright statement permits personal use, using the American term "fair dealing" rather than the Australian "fair use".)
Australia still has a long way to go before it understands the "open data" policies it's trying to implement. ®