Open source project gives cars the Ikea treatment
Download this flat-pack vehicle
A successful demo-build video, in which a flat-pack gets turned into a driveable chassis in 41 minutes, has focussed attention on an open-source car project, OSVehicle.
The project, which first went public last October, has several aims: vehicle makers could build and ship the kit car as a flat pack with their own individual touches (such as bodywork), while the gifted enthusiast can simply download the designs and get to work on their own.
And, of course, OSVehicle wants third parties to contribute their own designs and tweaks back into the project design.
The plans, available for download here, are in FreeCAD format, while potential commercial can register to receive detailed 3D construction blueprints.
The company describes the designs as providing an "industrialisable, production ready, versatile, universal chassis" rather than a finished product, and while it says its second evolution, the Urban TABBY, is a "road legal" version, The Register assumes the vehicles would still require in-country homologation in the target markets.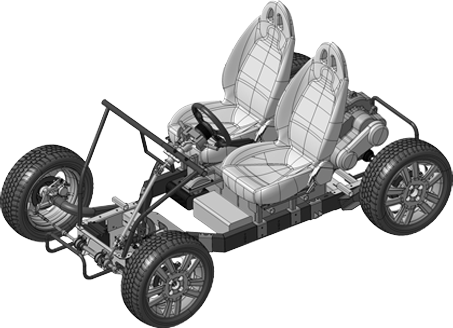 OSVehicle says the road version is "compliant with all the regulations needed for the road legal approval" - rather than stating that it has jumped through the diverse regulatory hoops that exist around the world. That would presumably be one of the value-adds a commercial partner would bring.
OSVehicle hopes to ship kits this year for between 4,000 and 6,000 Euros. ®